LOOK: Colts are openly recruiting heartbroken St. Louis Rams fans
The Colts didn't waste any time going after St. Louis football fans who no longer have a team to cheer for.
After a rough breakup, people sometimes go out looking for a rebound, a fact of life that the Indianapolis Colts are clearly aware of.
The Colts took to Twitter on Wednesday to let Rams fans in St. Louis know that they'd love to be their rebound team. St. Louis fans no longer have a team to call their own after NFL owners voted to approve the Rams' relocation bid on Tuesday.
We've had some @NFL fans reach out to us due to some recent events... #JustSaying pic.twitter.com/POpDGBSr4c

— Indianapolis Colts (@Colts) January 13, 2016
Basically, the Colts are saying, "The Rams don't want you, but we do."
The Colts even pointed out that Indy is only 240.7 miles away from St. Louis. Plus, the Colts play in an indoor stadium just like the Rams did, so basically, nothing changes.
On the bright side, Rams fans who start cheering for the Colts will probably immediately notice that the Colts have a better quarterback than anyone on the Rams' roster.
Anyway, judging by the response to the tweet, the Colts' plan is working perfectly. Several Rams fans have already offered to start cheering for the Colts.
@Colts @NFL what are the stipulations?

— Goof (@J_GOOF) January 13, 2016
@J_GOOF just bleed blue and respect the horseshoe.

— Indianapolis Colts (@Colts) January 13, 2016
@Colts you know what, I'm sold.

— Goof (@J_GOOF) January 13, 2016
@J_GOOF welcome to #ColtsNation! pic.twitter.com/cBAkKzGfPQ

— Indianapolis Colts (@Colts) January 13, 2016
That guy's not the only former Rams fan who's now on the Colts bandwagon. The guy below is also on board with Indy.
@Colts @NFL I live in southern Indiana. Was a huge Rams fan. Will u guys take me in? Ps my wife is a huge Colts fan!

— Doug Schwartz (@dougieswoll) January 13, 2016
On the other hand, several other fans pointed out two problems with the Colts' strategy.
1. It would make way more sense to cheer for the Chiefs.
@Colts @wingoz @NFL They'll likely adopt the chiefs first, it's closer and in the same state anyway

— Dustin Smith (@Equipment_Guru) January 13, 2016
2. The Colts are hypocritical because they stole a team from Baltimore.
@Colts @NFL This team was stolen from Baltimore. Never forget that, NFL fans.

— Christopher Brodhead (@ChadShorebird) January 13, 2016
Despite those two hiccups, the Colts' plan seems to be working. Don't be surprised if the Colts are the most popular NFL team in St. Louis when the 2016 season kicks off in September.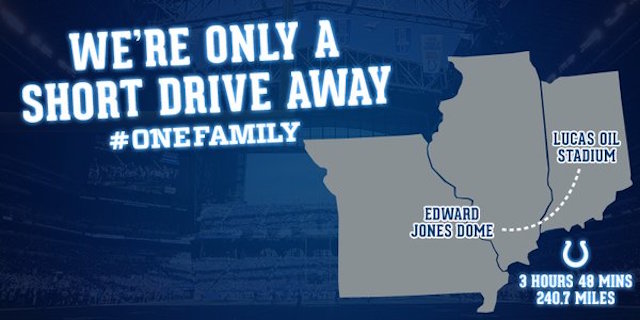 Pick Six Newsletter
Get the day's big stories + fun stuff you love like mock drafts, picks and power rankings.
Please check the opt-in box to acknowledge that you would like to subscribe.
Thanks for signing up!
Keep an eye on your inbox for the latest sports news.
Sorry!
There was an error processing your subscription.
This is why NFL players should always wear their helmet

Get caught up on all the injury information you need to know heading into Week 3's Sunday...

Delicia Cordon says she lives in fear every day
The Cowboys might be down one receiver in the very near future

Isaiah Crowell probably won't be using this TD celebration ever again

The Browns start to build around Mayfield with the best size-athleticism combo at receiver...