LOOK: Jameis Winston visits teen heart patient in Miami hospital
Dwayne Mitchell, a high school senior, was diagnosed with Wolff-Parkinson-White and has been in care at Jackson South Hospital since late May.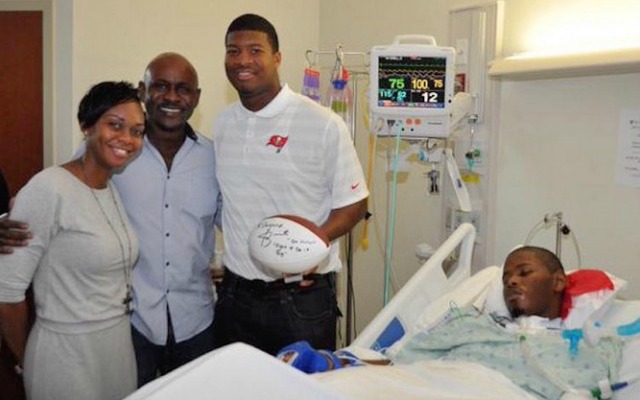 It's always nice to see football players give back to the community. Tampa Bay Buccaneers quarterback Jameis Winston appears to be taking time out of what is surely a busy offseason of preparation to do just that.
Winston traveled down to Miami's Jackson South Hospital to visit Dwayne Mitchell, a high school senior who has been in care there since being found unresponsive by his grandmother in late May. Here's a description of Mitchell and his health situation from the GoFundMe page set up by his family:
On May 26th, 2015, Dwyane Mitchell, a Senior at G. Holmes Braddock High School, was found unresponsive by his grandmother.  Dwayne's older brother performed CPR until Miami Dade Fire Rescue arrived. Dwayne clinically died several times during the CPR efforts. He was transported to Jackson South Hospital where doctors determined Dwayne went into Cardiac Arrest. It was later determined that Dwayne had an undiagnosed heart disease called Wolff-Parkinson-White. This heart disease is extremely rare and went undetected, even though Dwayne was a high school athlete and in great shape. Dwayne was taken into the ICU with severe swelling to the entire brain. He was treated in the ICU for ten days until doctors later determined that there was no more that could be done and Dwayne would not survive this ordeal. Without hesitation, the family sought a second opinion from one of the top Neurologists in South Florida. The family was informed that Dwayne's condition was survivable, but the road to recovery would be very long and steep. Since that day, Dwayne has missed his high school graduation and has been in the ICU fighting for a second chance at life. Dwayne has been moved to Promise Hospital (a long-term healthcare facility) where he is still suffering from the effects of multiple cardiac episodes; however, he is receiving treatment for his condition. Dwayne will require this type of treatment for several months not including rehabilitation and home nursing. Although Dwyane has health insurance, the medical expenses for long-term treatment far exceed what the insurance will cover.
In 26 days, the GoFundMe has raised a little more than $41,000. A few days ago, there was an update about Mitchell's condition posted to the page, which showed that he's moving in a positive direction.
Dwyane's medical condition has improved over the last several days. Dwyane has been breathing off the ventilator with no complications for up to twelve hours per day. Dwyane reacts to pain when applying pressure to his left side extremities. Dwyane often moves both arms and legs and occasionally opens his eyes throughout the day. The family is grateful and truly appreciates all of your support, prayers and donations. God Bless you.
That update appears to have been posted the day of or shortly before Winston's visit, which took place over the holiday weekend.
Thanks so much @Jaboowins for stopping by to #prayforDwayneMitchell. Find out more here http://t.co/4rpS0JlUoq #NFL pic.twitter.com/cpA3Hz3W1Y

— Miami Beach Police (@MiamiBeachPD) July 4, 2015
Wink of the CBS Eye to Yardbarker
Pick Six Newsletter
Get the day's big stories + fun stuff you love like mock drafts, picks and power rankings.
Please check the opt-in box to acknowledge that you would like to subscribe.
Thanks for signing up!
Keep an eye on your inbox for the latest sports news.
Sorry!
There was an error processing your subscription.
Every NFL coach should host a party like this

Aaron Rodgers singled out one source for information about 'what's going on with my contra...

James Harrison gives an inside take on the relationship between Brady and Belichick
R.J. White finished in the top 1 percent of the 2017 Las Vegas SuperContest

This might be the only piece of Eli Manning Chargers memorabilia in existence

Colts linebacker Edwin Jackson was killed in February