LOOK: Players, media, celebrities react to Deflategate punishments
Now that the punishment for Deflategate has been handed down from the NFL, players, celebrities, and analysts have taken to Twitter to share their reactions.
• 2 min read
The punishment is in and the Patriots were hit hard by the league for Deflategate. Tom Brady will miss four games. The Patriots will lose draft picks -- including a first rounder -- and a million dollars.  
Now that the Patriots have been punished, the reactions are flying. Some think the punishment is too harsh, some are happy to see the Patriots get knocked down, and some (Donald Trump) are just typing Tweets without looking at their keyboards. 
Here are some of the best reactions via Twitter, starting with the those who are most outraged with the NFL's discipline for the Patriots. Patrick Peterson's Tweet, which contains an ellipsis, could be sarcastic or it could be serious. But there are a lot of periods in that Tweet, so it's placed in the first category.
They had no definitive proof against Tom Brady or #patriots. If Hillary doesn't have to produce Emails, why should Tom? Very unfair!

— Donald J. Trump (@realDonaldTrump) May 11, 2015
Well done @NFL ..........#DeflateGate

— Patrick Peterson (@RealPeterson21) May 11, 2015
More Eli on Brady: "In no way am I glad to see this happen."

— Paul Schwartz (@NYPost_Schwartz) May 11, 2015
Holy Cow!!!!!

— Ryan Clark (@Realrclark25) May 11, 2015
David Ortiz on Tom Brady suspension: "They [F'd] up on that one."

— Jason Mastrodonato (@JMastrodonato) May 11, 2015
Now, some were happy to see the Patriots get punished. Eli Manning appears to be a bit conflicted with how he feels.
Eli: "If someone's breaking the rules I understand you're gonna get punished for it."

— Paul Schwartz (@NYPost_Schwartz) May 11, 2015
Gotta be consequences for your actions

— Josh Shaw (@J_Shaw26) May 11, 2015
I think the suspension is warranted, they came down hard on the organization though. #Deflategate

— Sean Weatherspoon (@SeanWSpoon56) May 11, 2015
Exactly what I thought. "@LiveForChrist88: @ShannonSharpe So Brady gets suspended 4 games.. Too much? Not enough? Or just right?"

— shannon sharpe (@ShannonSharpe) May 11, 2015
And of course, the NFL experts and the media weighed in.
NFL beat the Patriots in a way 31 other teams never could.

— Adam Schefter (@AdamSchefter) May 11, 2015
Man, Roger Goodell really hates @BillSimmons.

— Richard Deitsch (@richarddeitsch) May 11, 2015
Jimmy Garoppolo is talented. Quick feet, quick release and throws with touch/accuracy. Arm strength is good enough.

— Daniel Jeremiah (@MoveTheSticks) May 11, 2015
BREAKING: Patriots announce the signing of undrafted free agent Dom Drady pic.twitter.com/GCbTds2BKR

— Sports Comedy (@SportsComedy_) May 11, 2015
Then, there are the reactions that don't really fit into a right or wrong category, but deserve to be seen nonetheless.
Tom Brady getting more free time to spend with Gisele isn't ever going to be a punishment.

— Brett Anderson (@BrettAnderson35) May 11, 2015
All joking aside, Tom Brady should be thrown in jail for at least 15 years.

— Tom Crabtree (@itsCrab) May 11, 2015
#tbt pic.twitter.com/x98Hz3JU6m

— Lindsey Adler (@Lahlahlindsey) May 11, 2015
And there you have it, though it's still early and the reactions should continue to trickle in.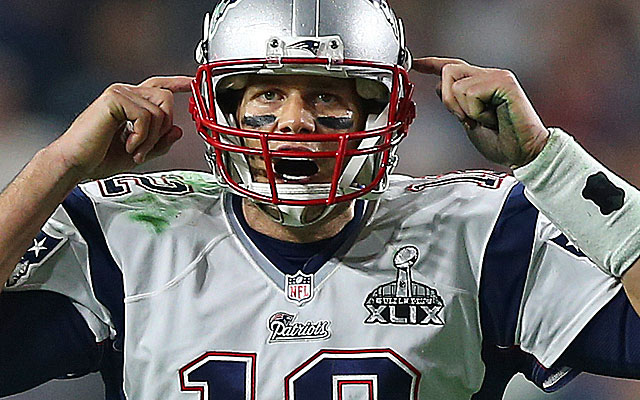 The Titans are getting ready to unveil a uniform that won't be 'anything close' to any other...

The NFL announced on Friday that 32 compensatory draft picks have been awarded to 15 teams
Jonathan Martin's old high school was forced to close on Friday after he appeared to threaten...

It doesn't look like the Jaguars will be making any front office changes anytime soon

The Buccaneers quarterback received a citation after causing a car wreck February 13