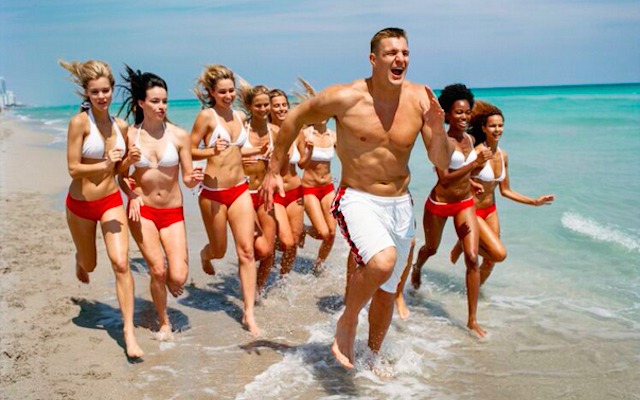 Rob Gronkowski's party bus is getting temporarily replaced early next year because Gronk has decided he needs something bigger -- and that something bigger is a party ship. 
In what could go down as the craziest cruise of all-time, Admiral Gronk and his family are teaming up with an outside company to charter a Norwegian Cruise Ship that's going to take Gronkowski and 2,500 of his closest friends on a three-day trip from Miami to the Bahamas. 
Come party with me and my bros on @Gronkspartyship next February! http://t.co/YIrpytmBvw Get Gronk'd! pic.twitter.com/jMyNdqN9lb

— Rob Gronkowski (@RobGronkowski) June 9, 2015
You definitely can't fit 2,500 people on a party bus, so moving things to a ship was really the only logical move.
Partying with Gronk isn't free: Anyone who wants to set sail on the Party Ship is going to have to buy a ticket, with the cheapest ones going for $700.
I have no clue what kind of events are planned for the three-day cruise, but I'm guessing there will be a bikini contest.
Hey #Gronk did you enjoy the view lmao @RobGronkowski pic.twitter.com/NU9KYbVTl8

— Jamie (Dj Spanky ) (@SpankyJamie) May 25, 2015
And lots of shots.
Gronk probably first person ever to chug @FireballWhisky in a minion hat. #Patriots http://t.co/MfBce3BqF5 pic.twitter.com/VGUINlgIdN

— John Breech (@johnbreech) February 5, 2015
And shopping.
What's more random than Rob Gronkowski posing with tiny kittens? Gronk shopping for women's underwear. #Patriots pic.twitter.com/xpTdHp01T7

— John Breech (@johnbreech) December 12, 2014
And dodgeball.
Gronk played so well in a dodgeball game, even White Goodman & Peter La Fleur were impressed. http://t.co/fjnrvMn4Ny pic.twitter.com/nWJVdVKzji

— NFLonCBS (@NFLonCBS) February 12, 2015
And flip cup.
Gronk lose at Flip Cup. Gronk mad. GRONK SMASH! http://t.co/9o3VBi4xZG pic.twitter.com/LpTLlUyZqp

— GQ Magazine (@GQMagazine) April 9, 2015
And beer chugging. And probably some dancing.   
The cruise is scheduled to set sail on Feb. 19, 2016. 
(Wink of the CBS Eye to Dujour.com)