Blair Walsh is probably going to want to avoid going online for the next few months because the Internet can be a brutal place, especially if you're a kicker who just missed a chip shot field goal that cost your team a playoff win.
After Walsh's 27-yard field goal sailed wide left against the Seahawks on Sunday, the Internet went to work.
First up, we have Seahawks wide receiver Ricardo Lockette. Since Lockette is on injured reserve, he was able to fire off one of the first Walsh insults and he did it by posting a picture of Steve Harvey on Instagram.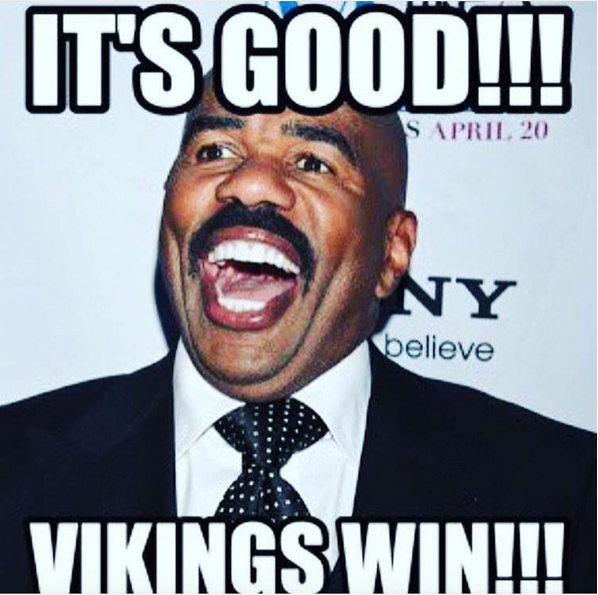 For NFL players who weren't involved in the game, the most popular reaction was "wow."
Wow

— Patrick Peterson /P2 (@RealPeterson21) January 10, 2016
Wow.

— Tyrann Mathieu (@Mathieu_Era) January 10, 2016
Smh wow.. The laces got em..

— Flash Gordon (@JOSH_GORDONXII) January 10, 2016
Wow

— Justin Forsett (@JForsett) January 10, 2016
"Wow" was also the word of choice for Pearl Jam. 
Wow. #SEAvsMIN

— Pearl Jam (@PearlJam) January 10, 2016
Falcons wide receiver Roddy White actually felt sorry for Walsh.
Dayum I feel bad for Blair Walsh

— Roddy White (@roddywhiteTV) January 10, 2016
Other people felt sorry for Walsh, but only because the laces were in.
Poor Blair Walsh...LACES OUT MARINO pic.twitter.com/l3g3qQFZuD

— Justin Cloutier (@Justin_Cloutier) January 11, 2016
Blair Walsh is actually Ray Finkle in disguise. "Laces out!" #Vikings #Seahawks pic.twitter.com/RziCmlJYhH

— David (@DavidsMark) January 10, 2016
Anyway, the big losers here though were Vikings fans, who sat through an entire game in minus-6 degree weather only to watch their team lose on a shanked kick.  
When you sat outside in sub-zero temps for three hours to see Blair Walsh miss a chip shot FG to win the game. pic.twitter.com/PtzMl4Wl7R

— Tom Fornelli (@TomFornelli) January 10, 2016
The good news is that we'll be able to re-live the kick in the near future after Netflix makes its documentary on Walsh.
Newest Netflix Documentary on Vikings kicker Blair Walsh. pic.twitter.com/erszzBo1Hn

— Dan Worthington (@danWorthington) January 10, 2016
Finally, if you really want to see how ugly the internet got after Walsh's miss, and you don't mind reading a few bad words, then feel free to click here, then scroll down and have fun.