LOOK: Sign at Philadelphia marathon mocks Sam Bradford's athleticism
Sam Bradford can't catch a break in Philly.
Sam Bradford isn't even playing this week, but that didn't keep someone at the Philadelphia marathon from mocking him on Sunday. 
Marathons are long and hard, so it's nice to have fans around the 26.2 mile course cheering you on. It's even better when those fans bring funny signs, like the one below. 
Hey y'all #phillymarathon c/g @cranekicker pic.twitter.com/K4MPYUyMX7

— Amy (@AmyLeighP) November 22, 2015
Ouch. 
It's harsh, but it's true.
Bradford isn't exactly known for his athleticism. In his five-year NFL career, the Eagles quarterbacks has only rushed for a total of 278 yards, which equates to about .15 miles. To put that in perspective, Cam Newton has rush for a total of 1.67 miles during his career. 
Anway, Bradford won't be rushing for any yards on Sunday because he'll be sitting out Philly's game against the Buccaneers due to a shoulder injury and a concussion.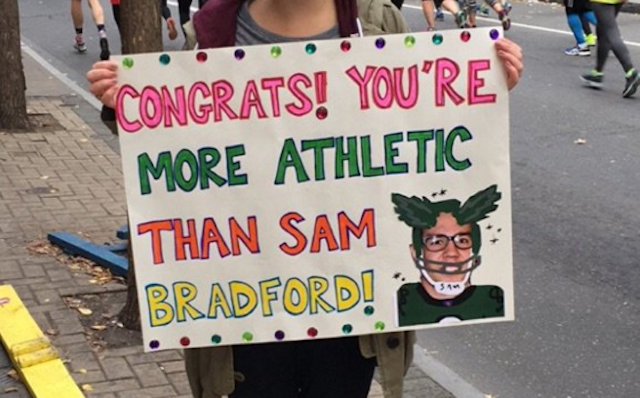 (Wink of the CBS Eye to SB Nation)
It's unclear when Timmons, a free-agent signing in the offseason, will make his Dolphins d...

The 'Peanut Punch' is coming to the FBI

Wondering which NFL team are going to win in Week 3? You came to the right place
Carl Johnson, the NFL's former VP of officiating, is facing domestic violence allegations in...

The Falcons look like a team capable of repeating as NFC champions and returning to the Super...

After two consecutive weeks of ineptitude on offense, Giants fans are already sick of Ben...