LOOK: Steelers-Bengals game leads to nearly $140,000 in player fines
The Bengals vs. Steelers game was a costly one for some people.
The NFL will soon be collecting some serious money from the Bengals and Steelers, thanks to some hefty fines that were handed out this week.
A total of seven players were hit with fines following Pittsburgh's 33-20 win over Cincinnati on Sunday, and those seven fines came out to a total of $138,906.
So how do you rack up almost $140,000 in fines?
It takes a lot of players doing a lot of illegal things. Let's look at the list of players who were fined.
Bengals linebacker Vontaze Burfict: $69,454. Burfict was hit with three separate fines for his play in Sunday's game. The Bengals linebacker was fined for unnecessary roughness, facemasking an opponent and roughing the passer on this low hit on Steelers quarterback Ben Roethlisberger.
How could this hit by Vontaze Burfict not be a penalty. Watch this cheap shot as he targets Ben's ankle pic.twitter.com/O4ZcT1FC5m

— Charlie Batch (@CharlieBatch16) December 13, 2015
According to NFL.com, Burfict's exact fine for hitting Roethlisberger was $34,700.
Steelers safety Mike Mitchell: $23,152. Mitchell got nailed with this fine as punishment for making an illegal hit on Bengals tight end Tyler Eifert.
Why M. Mitchell was flagged for the hit on Eifert, who left concussed 4 plays later. #Bengals h/t @ElgazzarBLVD pic.twitter.com/FIYGl9tkLI

— Jim Owczarski (@JimOwczarski) December 14, 2015
Not only did the helmet-to-helmet hit knock Eifert out of the game with a concussion, but it also did enough damage to keep Eifert of this week's game. The Bengals tight end won't play against San Francisco on Sunday.
Bengals wide receiver A.J. Green: $11,576. Green was fined for punting the ball into the crowd after catching a 66-yard touchdown pass from AJ McCarron.
AJ Green punted the ball into the stands after his TD. #Legend pic.twitter.com/qrLqeDDNqY

— Chris Towers (@CTowersCBS) December 13, 2015
McCarron was probably a little sad to see the ball from his first career touchdown pass go flying into the crowd. Generally, a player only gets fined $5,787 for what the Bengals receiver did, but Green got hit with a bigger fine because it was the second time this season he's sent a ball into the crowd.
Steelers David DeCastro: $8,681. DeCastro was fined for grabbing the facemask of Bengals defensive lineman Wallace Gilberry.
#Bengals Wallace Gilberry vs David DeCastro. pic.twitter.com/5yMXx8UZSd

— Josh Kirkendall (@Josh_Kirkendall) December 14, 2015
Steelers wide receiver Antonio Brown: $8,681. Brown got into a slap fight with Bengals defensive back Dre Kirkpatrick, but that's not what he was fined for.
Antonio Brown & Dre Kirkpatrick followed with a little slap match of their own pic.twitter.com/Ig9WaDvZAN

— The Cauldron (@TheCauldron) December 13, 2015
The Steelers wide receiver was fined for a crackback block he made on Reggie Nelson.
Steelers defensive backs William Gay and Steelers Brandon Boykin: $8,681 each. These two were fined for the same thing. After Gay picked off McCarron and returned it 23 yards for a touchdown, the two started doing a celebration that the NFL considers "excessive."
You cannot excessively celebrate anymore than William Gay excessively celebrates his pick 6 pic.twitter.com/xyW4cNKSoC

— The Cauldron (@TheCauldron) December 13, 2015
I'm sure Gay and Boykin will gladly write a check for their fines.
Total fines: $138,906.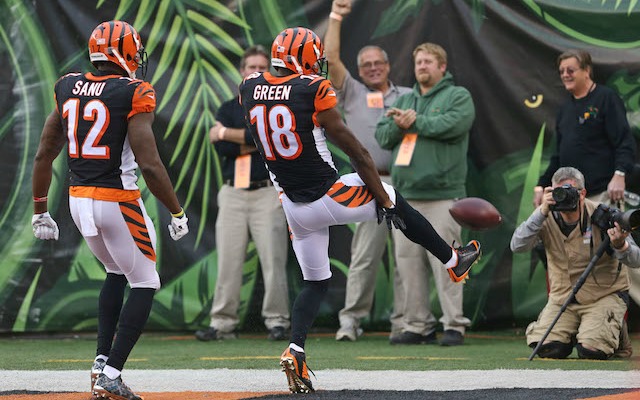 Pick Six Newsletter
Get the day's big stories + fun stuff you love like mock drafts, picks and power rankings.
Please check the opt-in box to acknowledge that you would like to subscribe.
Thanks for signing up!
Keep an eye on your inbox for the latest sports news.
Sorry!
There was an error processing your subscription.

Join our Free $1,000,000 Parlay Challenge
The free agent posted a photo of his class schedule on his Instagram story

Mike Tierney has his finger on the pulse of the Washington Redskins.

Murray was sacked eight times and put up the fewest yards in NFL history for a QB that completed...
The talented former first-round pick will again miss a chunk of an NFL season with injury

Pete Carroll had a tough day

If not for poor play by the Dolphins receivers, it might've been a big day for Rosen in his...