LOOK: The evolution of Evan Mathis' hair with help from Evan Mathis
We present Evan Mathis' hair as detailed by eight years worth of photos.
As mentioned earlier today, July is headshots season for the NFL production team here at CBSSports.com HQ.
We already brought you a candidate for Headshot of the Year and now we present the Evolucion de Evan Mathis' Cheveux.
Via our esteemed colleague and collector of headshots, Denny Burkholder, we present this tweet.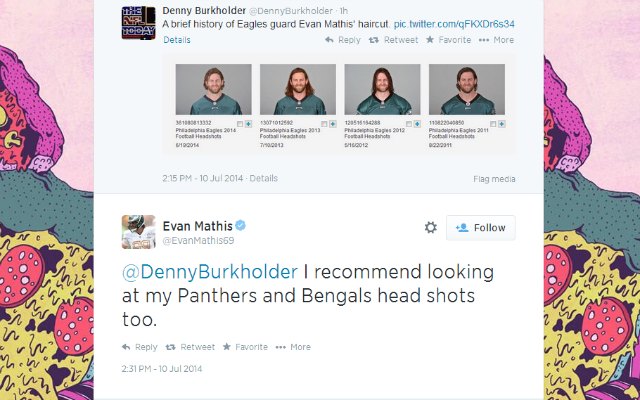 Evan Mathis, Twitter savant. We. Shall. Oblige. Evan Mathis, the complete timeline. 
Woah. Game-changer! RT @EvanMathis69 @DennyBurkholder I recommend looking at my Panthers and Bengals head shots too. pic.twitter.com/5W1ijzPefb

— Denny Burkholder (@DennyBurkholder) July 10, 2014
Throwback Thursday, we met your challenge hair on, and we have won. Or have we?!
@DennyBurkholder Evolution. The rookie spiked hair isn't in there but that was like 50 years ago.

— Evan Mathis (@EvanMathis69) July 10, 2014
UPDATE: We have. 
@EvanMathis69 BOOM. pic.twitter.com/dnKi73XlfV

— Denny Burkholder (@DennyBurkholder) July 10, 2014
The people of Philadelphia now have two reasons to root for the Eagles this week

You might not recognize the Patriots' defensive coordinator without his beard

T.O. definitely isn't a fan of the Cowboys head coach
R.J. White, who nearly won the Vegas SuperContest, locks in his pick for the AFC Championship...

This player probably won't be too popular in New England if the Patriots lose on Sunday

The connections between the Eagles and Vikings quarterbacks are endless