LOOK: Tom Brady steals show at Mayweather-Pacquiao fight
Tom Brady had a big day.
There were a lot of celebrities in attendance at the Mayweather-Pacquiao fight on Saturday, but the only celebrity people on the Internet actually wanted to talk about was Tom Brady. 
Tom Brady was sent from the future in search of Sarah Connor. pic.twitter.com/Wni9cSGW4x

— KorkedBats.com (@korkedbats) May 3, 2015
The Patriots quarterback somehow managed to make it from the Kentucky Derby to the fight in Las Vegas, which isn't easy, even when you have your own private jet to take you where ever you want. Even though he apparently ditched his buddies before heading out.
Tom Brady was at the Kentucky Derby. Now he's in Vegas for the fight. I had a lunchable for dinner.

— Phil Gentile (@iHateJJRedick) May 3, 2015
Tom Brady goes to the Derby, makes the boxing match in Vegas and has to go home to a super model. Our lives are so similar.

— Dudley E. Dawson (@Dedsports) May 3, 2015
When Brady finally got to the fight around 8 p.m. PT, he was shown on the live telecast -- and let's just say he looked like someone who had spent all day at the Kentucky Derby. 
Tom Brady looks like he went seven rounds with Gronk in a shot contest on the flight to Vegas. #PacquiaoMayweather pic.twitter.com/4dqjCsjg51

— John Breech (@johnbreech) May 3, 2015
Tom Brady has no clue what is going on right now.

— Kevin Clark (@KevinClarkWSJ) May 3, 2015
Tom Brady is officially listed as 'doubtful' for Sunday.

— Gary Parrish (@GaryParrishCBS) May 3, 2015
Even 2003 Joe Namath thinks Tom Brady is hammered

— Shawn Reynolds (@ShawnRTV6) May 3, 2015
Before Brady got to his seat, he did an interview with Jim Gray and well, things got a little awkward.
Did anyone else think that jim gray interview of Tom Brady was awkward as hell? #MayweatherPacquiao

— Krinal Rami (@special_k37) May 3, 2015
That was an awkward ending to the Tom Brady interview with Jim Gray #MayPac

— Kyle Waymon (@kylewaymon) May 3, 2015
That awkward pause by Jim Gray at the end of the Tom Brady interview was fantastic.

— Tony Roe (@tonysroe) May 3, 2015
Tom Brady with Jim Gray in Vegas. Gray asked about losing when he was undefeated.

— Tom Leyden (@TomLeyden) May 3, 2015
Here's the awkward pause.
Of course, that awkward moment would've never happened if Brady's handler had listened to NBC's Luke Russert.
Dear Tom Brady's handler: don't let your guy on national TV in Vegas after he's half in the bag from the derby & pj flight.

— Luke Russert (@LukeRussert) May 3, 2015
Once the fight finally started, no one could pay attention to it because they were all distracted by Brady. 
I get really distracted when they show Tom Brady in the background? the boy is ?

— Kayley Shoup (@KayleyShoup) May 3, 2015
Is anyone else TOTALLY DISTRACTED by Tom Brady? #MayPac

— Praveen Singh (@PraveenNYC) May 3, 2015
Tom Brady distracted me the whole fight because look at him for gods sakes pic.twitter.com/CywZYPOzY5

— Jessica (@Jess_01) May 3, 2015
Mayweather may have won on the fight, but I think it's clear that Tom Brady won the night. 
Drunk Tom Brady wins on my celebrity scorecard. Beyonce a close second. Burger King in third. #PacquiaoMayweather pic.twitter.com/BmbbVeuhf3

— John Breech (@johnbreech) May 3, 2015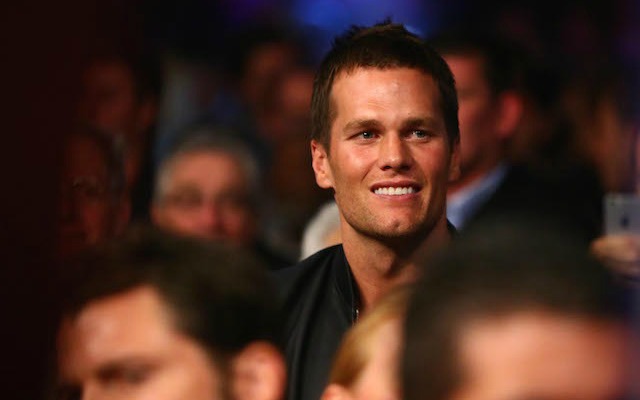 The inaugural youth world championships kicked off on Dec. 14 with more than 100 teams

The first-year cornerback has not been active in four weeks and drew a suspension earlier this...

McCown will help the coaching staff work with Bryce Petty and Christian Hackenberg
The Browns have a long way to go to be AFC North champs

Five selections against the spread for the upcoming Week 15 slate of NFL games

Here are 10 things to watch in Week 15, including a hot Bortles, a cold Brady and a new Eagles...