LOOK: Von Miller rocking Conan-inspired fuzzy cleats
Von Miller's pregame cleats for Week 15 have quite the interesting backstory.
Von Miller's pregame cleats for Week 15 have quite the interesting backstory.
Prior to Sunday's tilt with New England, the Broncos star will don ultrafuzzy Adidas cleats, inspired from Miller's February appearance on Conan O'Brien's talk show.
We'll let Sole Collector explain:
For this pair, Miller took it back to an appearance on Conan O'Brien's late night show with brandmate Josh Norman ahead of Super Bowl 50. In a skit, the trio donned fuzzy caps and called themselves the "Hat Buddies." The significance? O'Brien, as he stated in the skit, is a big New England Patriots fan. Miller's Broncos had beaten the Patriots en route to Super Bowl 50, leading to some funny banter between the two.
Here are the cleats, because that's why you're here: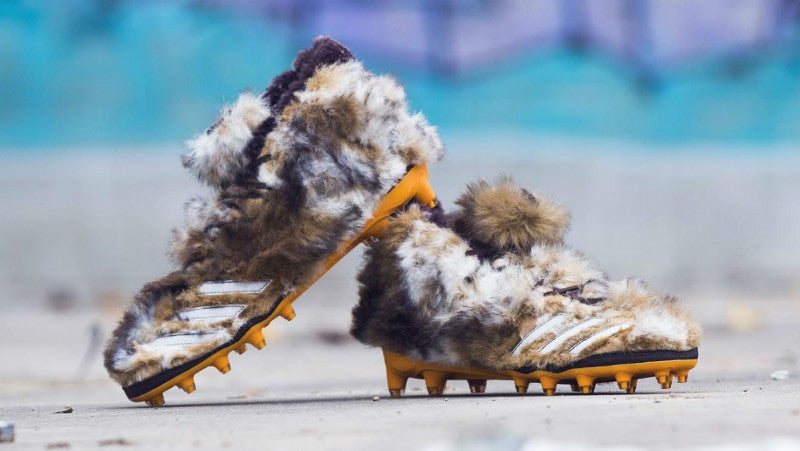 What's next for the 8-5 Denver Broncos? Don't miss out on any news, take a second to sign up for our FREE Broncos newsletter!
Last Sunday, Miller pulled off chicken feather-laced footwear -- because "roosters are dope." We all await his choice next week, when he might just trot out a live bird onto the field.
Retirement could be next for the Eagles' 34-year-old running back

The Steelers weren't actually in their locker room for the national anthem

An impassioned Norman went off on Crabtree and Amari Cooper for talking big, then getting shut...
Alejandro Villanueva, a former Army Ranger, broke rank Sunday and went out for the anthem

Fans at Gillette Stadium didn't sound too thrilled to see the home team kneeling for the national...

Mike Tierney is 27-11 on NFL over-under picks since last season and has a strong play on C...