Looking at which NFL week certain QBs could lose their starting jobs
Rookie QBs Manziel, Carr, Mettenberger, Bortles, Savage, Bridgewater and McCarron figure to start at some point (and don't sleep on vet Vick for the Jets).
• 9 min read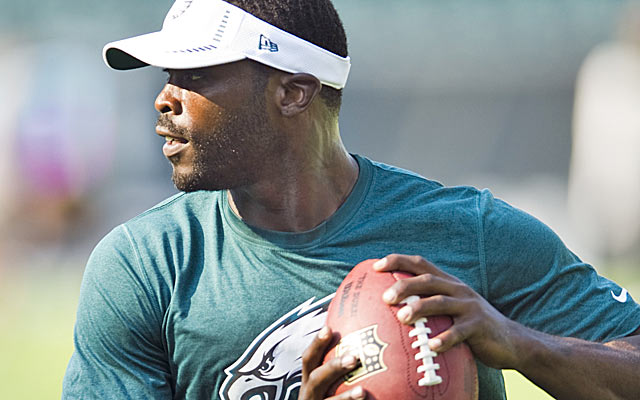 OTA, rookie minicamp dates | 2014 Draft Grades
Remember when this class of rookie NFL passers was going to flop? Surely you haven't already forgotten the flotsam and jetsam swirling around a few before the draft about how maybe only one quarterback would be drafted in the first round, and passers would be falling and, oh, what long days awaited them in the pro game.
Well, we're only a few days removed from that draft, but as I recall it, three quarterbacks went in the first round and four in the top 36 picks. And even with so much made of how a bevy of winning SEC quarterbacks were still available on the third day of the draft, many of those youngsters now find themselves in a very fortuitous situation. So a little patience can go a long way, and as we begin to project into the 2014 season, post-draft, I think a good number of these recent draft picks will be under center sooner rather than later.
In fact, I wouldn't be surprised if we see a uniquely high number of teams making in-season decisions to change quarterbacks, not so much because of injury or things out of one's control, but because of a coach's gut feeling that the kid on his bench might be better than the veteran atop his depth chart. The quarterback spot often seems unsettled around the NFL in May, and while these scenarios aren't limited to clubs that just drafted a quarterback, it's certainly endemic to many franchises that did.
It wouldn't shock me if most quarterbacks drafted last week see meaningful snaps as rookies. It's easy to project one of the major training camp storylines being the high number of starting jobs more or less up for grabs, even if management and coaches won't admit it publicly.
So with that in mind, here is a a very early look at where the quarterback changes might come, with my over/under for when it might go down.
New York Jets -- Week 4 (of OTAs): I don't believe Geno Smith will hold off Mike Vick long. Vick has executed the system at a high level and he is refreshed. The guys in that locker room will gravitate to him, young players flock to him because he's been through the wars and there ain't no way Rex Ryan won't view Vick as his best option sooner rather than later. The Jets did a lot of work on quarterbacks in this draft and Smith's attitude have given some pause to those around him and he'd best apply Vick's teachings sooner rather than later. I'm not sure the Jets will be able to keep this genie in the bottle, because I expect the quotes coming out of that locker room this spring to make it clear the best chance to win will come from the veteran and not the incumbent.
Tennessee Titans -- Week 4 (of preseason): I'm not a Jake Locker believer and have a hard time thinking Ken Whisenhunt will be for long. The Titans might have taken a quarterback much higher than they did -- like possibly at the top of the second round -- had Blake Bortles or Derek Carr still been on the board. With those QBs gone, they waited until day three to nab Zach Mettenberger, a big, strapping, strong-armed quarterback who very much fits Whisenhunt's mold. This coaching staff didn't draft Locker, who has battled injuries and inaccuracy since coming into the league. While Jake made strides last season, the reality is he was asked to do precious little, he wasn't allowed to throw the ball much at all. And if this Titans team shapes up to be as bad as I expect, getting reps for Mettenberger in real-life situations soon could end up making the most sense for this transitioning franchise. I'm guessing Locker keeps the starting job into the preseason, but this could very well be a Russell Wilson situation, perhaps even with the window more open because of injury, like when Wilson grabbed Seattle's starting job as a rookie during his third preseason game.
Jacksonville Jaguars -- Week 1: I appreciate the sentiment in Jacksonville about allowing Blake Bortles to have all of 2014 to take things in. But he was just taken third overall and has the components you want in your starter. While I believe you can do worse than Chad Henne as your starter, you can also can do a heck of a lot better. With all of the young receivers drafted there the past few years, the Jags' desire to build off last season's strong finish and playing in a division that might be the NFL's worst, I feel Bortles starts to close this gap quickly. As much as the Jags might want to hold him off, I'm not sure they give him a redshirt year. I believe he establishes himself as the best quarterback on their roster in the preseason and the Jags end up letting him open the season under center. We're obviously a long way off, but Henne primarily has been a backup for a long time, and if the third overall pick looks anything like what you hope, even early on, then I could see Henne holding the clipboard again when real games start.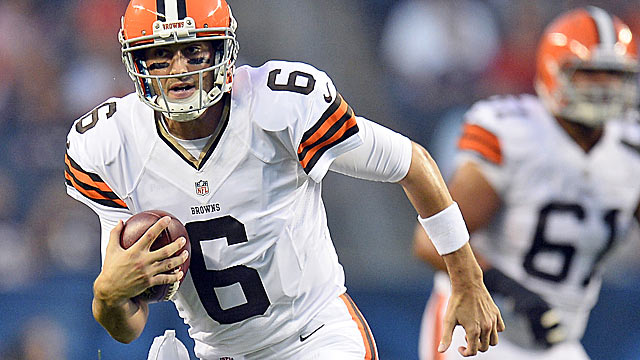 Cleveland Browns -- Week 1: The Browns seem intent on trying to make Johnny Football feel like he must earn his way up the depth chart and, hell, you won't find a bigger Brian Hoyer guy than me. But with Hoyer coming off ACL surgery, coordinator Kyle Shanahan a sucker for mobility and Manziel selling a record amount of jerseys the first 12 hours after he was selected in the first round, is anyone buying this will be a fair fight? If you draft Manziel, you kind of know what you're getting into. You can't hold this off for long. The fans, sponsors and everyone else will be clamoring for it. And Cleveland has stunk for so long I just don't seem them delaying the future for long. The most exciting player in college football, who you moved all over the draft board to land, isn't there to hold a clipboard. I don't see this developing as a true quarterback controversy, because as long as Manziel looks quasi-competent in the preseason I am handing him this job. I hope Hoyer gets a real shot here, and if not here, than gets dealt somewhere he can start right now, but I'm not sure it plays out that way.
Houston Texans -- Week 3: I don't think this is a good team, but given their playoff experiences in recent years I could see the Texans going into 2014 in win-now mode. And I don't blame them a bit. That defense has to be to be better than a year ago and they feel like they can run the ball. So I'll say they start with veteran Ryan Fitzpatrick under center. Or, if at some point they deal for the Pats' Ryan Mallett , then I'll say he gets the nod. But after holding the No. 1 pick and looking at so many quarterbacks in this draft, coach Bill O'Brien -- a quarterback guru -- finally drafts Pitt's Tom Savage. So I think that kid will play, and likely soon. Fitzpatrick falls prey to turning the ball over, the Texans play two of their first three games on the road, and by the team they return for the second home game, I could see the change under center. Perhaps Savage, who very much looks the part of an NFL starter, wins the job sooner, but given how much time he missed in college -- two critical developmental seasons because of transfers -- I am going to give the lean to Fitzpatrick through the offseason and training camp. Worst case, I figure for Savage is a midweek change under center when the Texans go on their bye in November.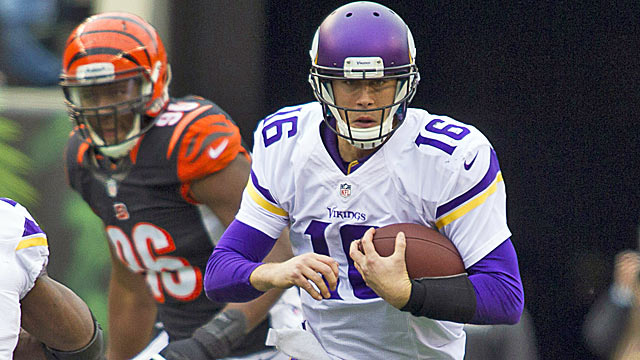 Minnesota Vikings -- Week 6: Offensive coordinator Norv Turner is very comfortable with Matt Cassel under center and played a big role in him staying in Minnesota. So the Vikings aren't in a rush to do something with Teddy Bridgewater . They'd love to take their time and win some games in the meantime. ... I'm just not sure that's how it plays out. By the time the Vikings play the Green Bay Packers on Thursday night on CBS in Week 5, they might winless because of a tough early schedule. If that's the case, I'm going to look for Bridgewater to get his shot Week 6 against the Detroit Lions at home. This team that will only stick with a bridge quarterback -- over a Bridgewater quarterback (you like that?)-- for so long. And if they cannot start quickly, I look for a change. GM Rick Spielman has been under pressure to find a solution at quarterback and I don't think his latest first-round selection sits more than midway through the season.
Oakland Raiders -- Week 6: Oakland has to head east to play 10 a.m. kickoffs (for them) in the first month of the year, and while the quality of opponents isn't overwhelming, this franchise isn't exactly known for fast starts, either. And the Raiders just happen to have a Week 5 bye. For as much as some make about what new starter Matt Schaub is being paid, I'd remind them that under the new CBA teams have to spend to a new threshold in actual dollars. And short of trades or grossly overpaying older vets, the Raiders have difficulty attracting talent. Schaub was horrible last season, the interceptions are crippling and owner Mark Davis is all about rookie Derek Carr, a high second-round pick. We've seen Andy Dalton , Wilson and others go from Day 2 selection to quickly starting, and Davis is very much trying to set up the future. With GM Reggie McKenzie and coach Dennis Allen already under fire, playing for the future via Carr might start to make sense fairly soon. Carr was seen by some evaluators as the rookie quarterback best equipped to play right away, and I'm not sure Schaub staves that off for more than a month.
Cincinnati Bengals -- Week 16: I remain unconvinced that Andy Dalton finds common ground with this team on a new contract. In fact, this looks like another Joe Flacco situation, when the perennially playoff-bound quarterback plays out his entire rookie deal before he gets paid ... if he gets paid. The pressure is on Dalton to win a playoff game, but can the Bengals really reach the postseason four straight years? Is that too much to ask? Just might be. And if it is, then if or when the Bengals are eliminated from the playoffs, I think they take a look at AJ McCarron, who did nothing but win at Alabama. This could turn into one of the more interesting subplots in the AFC down the stretch. Given Dalton's lack of success on the big stages, many will look to see how he holds up with all the questions about his future. And I wouldn't discount McCarron's chances because he was drafted in the fifth round. The Bengals are facing a massive judgment call about what Dalton is worth, when to pay him and what he will be for them moving forward. Selecting McCarron over the weekend only adds intrigue to the process.
Everything you need to know for Week 3 of the 2017 NFL season is here

Two NFC East divisional foes face off this weekend in a big battle for both teams

Matt Ryan and Matthew Stafford, two of the NFL's best quarterbacks, face off in a Week 3 m...
Wilfork has always wanted to be a tailgater, and now he finally can be

It's finally time for Russell Wilson and company to pick things up in Tennessee

Brinson shares his five Week 3 plays in the Westgate SuperContest