Louisiana legislator pulls bill that would have affected injured Saints
Louisiana Rep. Chris Broadwater told the New Orleans Times Picayune that he is pulling the bill that would alter workers comp laws.
• 1 min read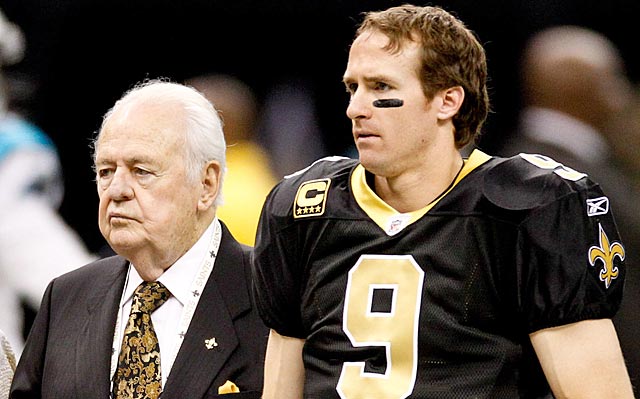 More NFL offseason: League minicamp dates | Latest news, notes
With all the talk about a playoff expansion and if the players would hold that idea hostage in exchange for the NFL stopping its support of states enacting tougher workers comp laws, a Louisiana legislature had created a controversy by introducing a bill that could minimize a players' ability to claim money for being injured.
The NFLPA then not-so-subtly advised player-agents to discourage their clients to think about signing with the Saints.
Sounds like it's all going to be for naught, though.
Rep. Chris Broadwater (R-Hammond) told the New Orleans Times Picayune that he "is not planning to move the bill further." Instead, Broadwater said he hopes the sides can determine a formula that would properly pay benefits to those players hurt in the workplace.
Reportedly, some Saints players were planning to show up at the state capitol on Tuesday in order to protest the bill that had already made its way through the state house and was in a holding pattern in the senate. And that they did.
Saints players on Senate floor at Louisiana sate legislature...HB1069 pulled and off the table! Job well done @nflpa pic.twitter.com/R5smWgzsMG

— Kevin Mawae (@KevinMawae) May 27, 2014
Said Broadwater: "My feeling is that both sides were trying to work on finding a solution in waning days in session, and rather than with clock ticking, the best thing to do for everyone was for me to just defer the bill right now and trust that the two parties will continue to work together to find a solution."
Saints quarterback Drew Brees had been a critic of the potential legislation.
"There is no financial benefit to the state with this bill, only team management," Brees said in a statement earlier this month. "I am disappointed that [bill sponsors] Representative [Chris] Broadwater and [co-sponsor Cameron] Henry would take such a stance against our players and other Louisiana workers. Whether we get hurt during the season or in the preseason, it is all the same. It is in preparation to help us win a championship for our community."
It sure looks like the former top pick will be benched heading into the regular season for...

Someone asked him to start the press conference of course

Derrick Johnson wants to discuss players' First Amendment rights amidst the protests
High praise from one of the most athletically gifted quarterbacks ever to step on a football...

Nobody will mistake Joe Looney for his star teammates

Osweiler is being benched in favor of DeShone Kizer