Luck, lucky and good: Colts all smiles after beating back Kansas City
Indianapolis stares down elimination and mounts an incredible second-half comeback behind QB Andrew Luck.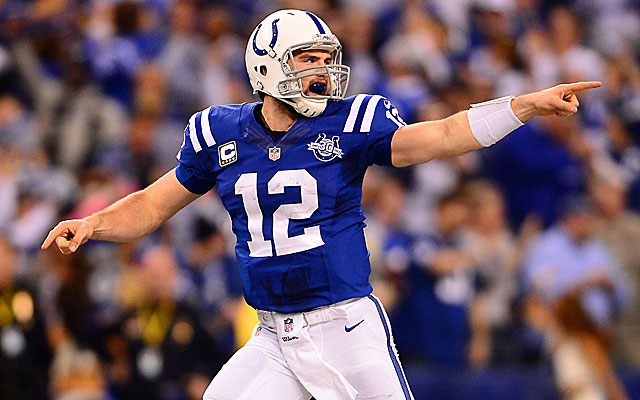 INDIANAPOLIS -- In one locker room the players were lined up quietly, none of them talking, almost all of them sitting and facing the street clothes in their cubicle. At least a dozen members of the Kansas City Chiefs were staring down into their cell phones, reading the Internet and trying to make sense of what had just happened, what had just happened to them, this 45-44 NFL wild-card victory by the Indianapolis Colts on Saturday.
How does a team react to blowing one of the biggest leads in NFL history? The Chiefs read about it on Twitter.
Left guard Jeff Allen, who sent out a tweet within minutes of the game's final whistle -- "Not going to lie," he wrote, "it hurts to lose a game like that" -- was scrolling through his mentions when he saw something he didn't like and made a face and put his phone down. He leaned over, picked it back up for another look and then threw his phone into his bag, where it landed with a bang.
In the other locker room the players were dancing to Bob Marley and shouting short bursts of happiness at each another. Quarterback Andrew Luck, maestro of this comeback with 443 passing yards and four touchdowns, was bouncing from locker to locker, congratulating some teammates and thanking others and asking anyone and everyone for a razor to help cut through the layers of tape holding his ankles in place.
"Sharpie!" he yelled to receiver LaVon Brazill, who laughed and shook his head and yelled that word back at Luck, because that's what you do when you've stared at the abyss of elimination in an NFL playoff game and jumped clear over it and landed on the other side.
"Sharpie!" Brazill yelled back to Luck.
The celebration continued in waves, as players came out of the showers and took part in the screaming and singing. Defensive end Robert Mathis, whose sack-and-strip of Chiefs quarterback Alex Smith was the fulcrum on which this game tilted away from Kansas City, pulled on a dark V-neck sweater and turned to face the media, sweat pouring off his bald head and dripping onto his black slacks.
The Colts had trailed 38-10 when Luck led a five-play, 80-yard scoring drive to make it 38-17 with 11 minutes, 47 seconds left in the third quarter. The game still seemed out of reach -- various win-probability calculations gave the Chiefs a 92-percent chance of victory -- but then Mathis chased down Smith, knocked the ball free and watched from the sideline as replay officials ruled that Colts linebacker Kelvin Sheppard had control of the recovery before rolling out of bounds. Ninety seconds later Luck threw a 3-yard touchdown pass to Donald Brown, and it was 38-24. And there were still 7 1/2 minutes left in the third quarter.
"Andrew Luck, man -- Andrew Luck," is how Mathis explained what happened out there. "I feel blessed to witness it."
That's part of it, sure. There was Andrew Luck. He rebounded from an awful start -- three interceptions in the first 2 1/2 quarters, the third one leading to a Kansas City field goal for a 41-24 lead with 4:12 left in the third quarter -- to throw for 314 yards and three touchdowns in the second half. His 45th and final pass was a deep ball that hit T.Y. Hilton in stride for a 64-yard touchdown that gave the Colts their first lead of the game at 45-44. The Colts' previous touchdown was scored by Luck himself, when he scooped up Brown's fumble at the Chiefs' 5 and bulled into the end zone.
"That happened, and I was like, 'Oh man, we've got something here,'" Mathis said. "I'm real fortunate to play with someone like Luck."
Andrew Luck, yes. But there was the Mathis sack of Smith for a pivotal turnover. There was Hilton catching 13 passes for 224 yards, both franchise postseason records. There was Brown rebounding from a quiet first half by totaling 90 yards from scrimmage (47 receiving, 43 rushing) and two touchdowns in the second half.
And there was what happened to the other team. While the Colts were actively winning this game, the Chiefs were passively losing it. Lots of it wasn't even their fault, but bad luck and injury. First, the two fumble recoveries. After the Mathis sack-and-strip of Smith, Sheppard's recovery near the sideline looked to be a 50-50 call on replay. Brown's fumble near the goal line could have been a game-ender had it bounced toward one of the Kansas City defenders instead of going right to Luck, who had an open alley to the end zone.
Then, injuries. The Chiefs lost star running back Jamaal Charles on their first series to a concussion, then lost two more starters to concussion -- receiver Donnie Avery, not long after he caught a 79-yard touchdown pass in the second quarter, and cornerback Brandon Flowers. Charles was replaced ably by Knile Davis, who ran 18 times for 67 yards and a touchdown and caught seven passes for 33 yards and a touchdown -- but Davis left the game early in the fourth quarter with a knee injury, and the Chiefs' offense finally stalled.
It took all of that for the Chiefs to lose one of the best games of Alex Smith's career -- a career-high 378 passing yards, four touchdowns, no interceptions and a 119.7 passer rating -- and a game in which they had a plus-three turnover edge.
And it took all of the offense mustered by the Colts in the second half, when they scored five touchdowns that had the country talking about this game. Two game-related topics -- "Andrew Luck" and "KCvsInd" -- were trending nationally on Twitter on Saturday night, waiting for the Chiefs to see it on their phones.
The Colts? Technology could wait. They celebrated this one with a personal touch in their locker room, teammates hugging and singing to Marley's "Redemption Song" and someone finally giving a sharpie to Andrew Luck so he could cut himself loose from his tape while coach Chuck Pagano was in the interview room, trying to put this game into words.
"Obviously incredible, incredible victory," Pagano said. "One for the ages."
Check out the uniforms that Kansas City and Oakland will be wearing on Thursday

Cliff Avril's NFL career might be over

Oct. 18 is a very special day in NFL lore
The Falcons should not be making any plans for Minnesota in February

The Colts star quarterback could end up missing the entire 2017 season

Not even two Super Bowl wins is enough to get Eli Manning any respect