Magic Johnson: Los Angeles will have NFL team in next two years
Magic Johnson has plenty of confidence that Los Angeles will get an NFL team. And soon.
• 2 min read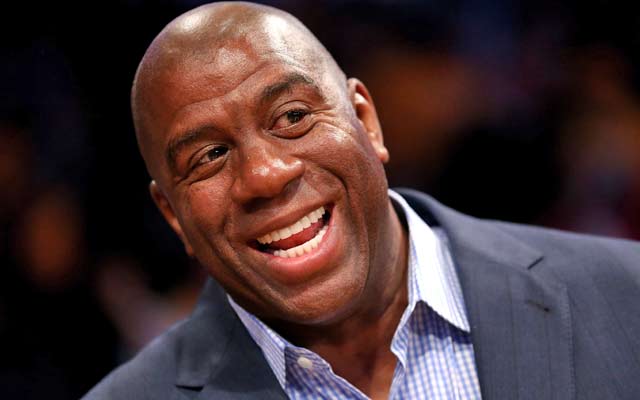 More NFL: Photos |  Videos & GIFs |  Training Camp updates | Manziel
With so much talk coming from commissioner Roger Goodell about the possibility of relocating an NFL franchise to London, the league establishing another team in Los Angeles has gone from a talking point to a whisper in the past several years.
But Magic Johnson is saying otherwise.
"I think for the first time, I truly believe we're going to get a team. Finally," Johnson said Tuesday, via Yahoo Sports. "Everybody is on board. The city is on board. The business community is on board. The NFL is on board. Finally we have momentum. In the next couple years, at least in the next 24 months, I think one team will be coming. I don't know what team that will be, but I believe in the next two years we'll have a team."
Two years? Wow, OK. That seems hard to believe, because right now, there's no new stadium in the works. Though there has been talking about renovating the LA Memorial Coliseum -- where the Chargers, Rams and Raiders used to play -- Southern California athletic director Pat Haden said that project is still about three years away.
One possibility for relocation could be the Raiders, once again, moving from Oakland to southern California. CBS Sports' Jason La Canfora was at the scene in Oxnard, Calif., where the Raiders were practicing against the Cowboys on Tuesday and wrote:
"But, as they stood on a field at a training complex roughly 60 miles from downtown LA, it was surely no coincidence that as soon as practice was over Cowboys owner Jerry Jones, as slick of a media maven as they come, sought out a robust gathering of reporters, and threw his arm around [Raiders owner Mark] Davis and Hollywood mogul Michael Ovitz. Then he launched into a soliloquy about his deep relationship with Davis, and his high esteem for an LA stadium model that Ovitz conducted and its viability to house an NFL franchise (or two, ultimately, if the NFL gets its way with this market)."
And though the talk about the Chargers moving from San Diego and returning to their original home is something we have to hear about on a yearly basis -- and lately, there has been talk about the NFL building a stadium and then renting it out to a team -- it seems that Johnson believes Davis is the key to returning the NFL back to LA.
"It would be great to have the Raiders back in LA, I would love for that to happen," Johnson said. "But that's going to be up to Mark and the Raiders and the NFL. But I would love to have the Raiders back in LA, where they belong. We just want a team, we want a team in the worst way." 
Everything you need to know about the Packers-Panthers game on Sunday afternoon

The Lions will be wearing their Color Rush uniforms for the first time on Thursday

The Lions look to maintain playoff positioning while the Bears attempt to play spoiler
The Panthers have hired an outside law firm to conduct the investigation

Here's every official injury designation for each NFL team for Week 15

Bennett was one of the few players who escaped punishment after Sunday's melee in Jacksonv...