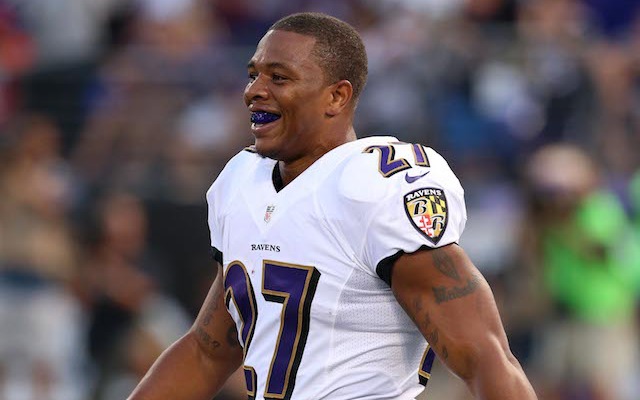 More NFL: Photos |  Videos & GIFs |  Training Camp updates | Manziel watch
There are a lot of NFL fans out there who felt the league was to lenient when handing out Ray Rice's suspension in July. The Ravens running back was suspended for two games for knocking his then-fiancee out with a punch at a New Jersey casino in February. 
Most fans felt that Rice deserved a suspension between four and eight games, if not more. You can put Maine governor Paul LePage in the 'if not more' category. 
The governor sent a letter to NFL commissioner Roger Goodell that was obtained by the Associated Press. In the letter, LePage, calls Rice's two-game suspension ridiculous because it sends the message that it's alright "for professional athletes to beat women, just for the sake of ratings."
According to the court summons from the incident, Rice hit his now-wife with his hand and knocked her unconscious. Rice was indicted on a third-degree aggravated assault charge, but he was later admitted into a court diversion program that could allow him to have the charge expunged.
Security footage from the night of incident shows Rice dragging Palmer out of an elevator at Revel Casino in Atlantic City.
LePage says there is 'something very wrong with the NFL culture' if Rice is only getting a two-game suspension. From the letter: 
Giving a mere two-week suspension to Baltimore Ravens running back Ray Rice is, quite frankly, unconscionable. The man knocked his fiancee (now wife) unconscious, then dragged her body out of an elevator. In issuing the suspension, you claimed the league must be 'consistent' when issuing punishments. If that is the 'punishment' for knocking a woman unconscious, then there is something very wrong with the NFL culture and its policies...

Taking thugs and wife-beaters off the field may be bad for business, but you are playing games with people's lives.
LePage was beaten by his father when he was younger and said he has 'zero-tolerance position on domestic violence.'
During a radio interview in early August, LePage said that he would be boycotting the NFL and that Rice should have been suspended for three years, "As a matter of fact, the team should have taken him out in the back shed and taken care of him," LePage said. 
LePage feels that Goodell should have sent a message with Rice's suspension.
"You have the power to send a very strong message to a national audience that his behavior will not be tolerated," LePage wrote in the letter.
Goodell explained Rice's suspension while he was in Canton, Ohio for the Hall of Fame ceremony on Aug. 1. "We have a very firm policy that domestic violence is not acceptable in the NFL." Goodell said. "I think what's important here is Ray is taking responsibility. He's been accountable for his actions."
After serving his two game suspension, Rice will be eligible to return to the Ravens on Sept. 12.