Man seeks injunction, claims Chargers shouldn't be in playoffs
A man in Pennsylvania has filed for an emergency injunction to get the NFL playoffs suspended for 7-10 days so the Steelers and Chargers can play a game on a neutral field with the winner going to the playoffs.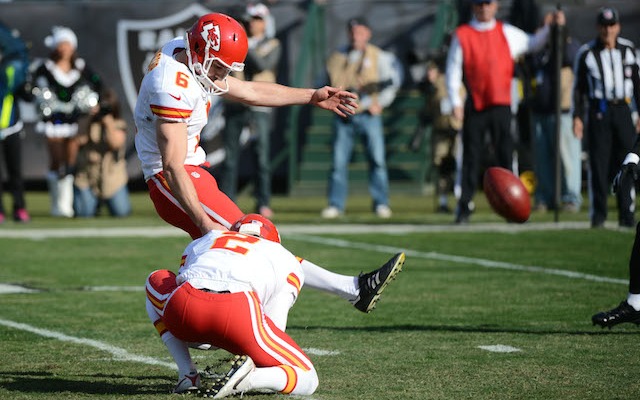 Most Pittsburgh Steelers fans were pretty upset with the the way the NFL season ended. Kansas City kicker Ryan Succop missed a 41-yard field with four seconds left against the Chargers that would have given the Chiefs the win and sent the Steelers to the playoffs. 
Even worse, the Chargers should've been flagged for illegal alignment on the kick. If officials had called the penalty, Succop would have had another kick, but this time, from five-yards closer. 
One Steelers fan was so upset with the entire situation that he decided to file a motion in Pennsylvania court saying the Chargers shouldn't be in the playoffs. The man is seeking a 'temporary emergency injunction' calling for the NFL to suspend the playoffs for seven-to-10 days so that this issue can be resolved. The man says the officials were 'negligent' and 'fraudulent' when they missed the call.
The injunction was filed last week, according to the Baltimore Sun, but the man is in jail and had to file the injunction using inmate mail through the Pennsylvania corrections department, which may explain why the injunction didn't come to light until Wednesday.
The man also has an issue with the fact that a Chiefs touchdown was called back in overtime. Eric Weddle lost the ball on a fake punt and the Chiefs returned it for an apparent touchdown, but referee Bill Leavy ruled that Weddle's forward progression had stopped. In his injunction, the man calls this 'unconstitutional.'
To rectify the situation involving the Steelers and Chargers, the man suggests letting Succop re-kick the field goal or possibly letting the two teams play on a neutral field to see who gets the playoff berth. 
The Bengals probably wouldn't mind letting this injunction play out and then taking on the winner of the Steelers-Chargers game.
If you'd like to read the entire injunction, you can do that here. Also, as the Baltimore Sun notes, the man has not submitted a filing fee or requested a waiver.
Trump's remarks from Friday night are the top storyline in the NFL on Sunday

There was only one Steelers player on the field for the national anthem in Chicago

On Sunday, players across the entire league are responding to Donald Trump's comments
The Jaguars are doing their best to embarrass the Ravens

The Steelers say they won't be affected by 'divisive times'

Both Rodgers and Brady posted messages on social media calling for 'unity' and 'brotherhood'...