Manti Te'o probable to play vs. Cowboys
After not playing since the first preseason game, it appears as though we'll finally get the chance to watch Manti Te'o in action.
• 1 min read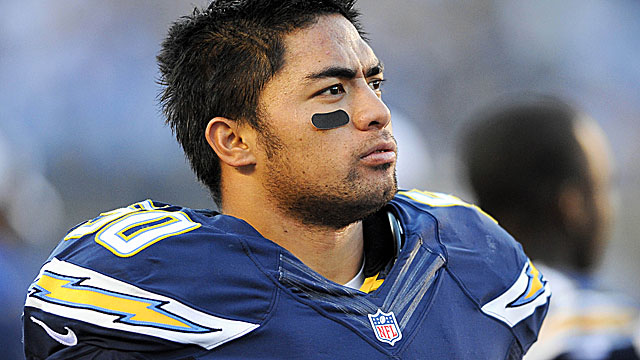 It sounds like we just might see one of the most-hyped rookies of the offseason finally make his NFL debut Sunday.
That's because Chargers linebacker Manti T'eo was listed as probable on the team's injury report Friday, meaning there's a 75 percent chance T'eo -- who's been afflicted with a foot injury that has kept him out the first three weeks of the season -- will take the field for the first time.
Despite returning to practice last week -- he hadn't played since the first preseason game -- the Chargers kept T'eo deactivated for Week 3. But Te'o was a full participant in practice Wednesday, Thursday and Friday, and that's probably good enough to get him in the game vs. the Cowboys.
Considering this will be Te'o's first regular-season football action since Jan. 8, he's almost got to be rusty, right?
"Tackling is not hard at all," Te'o said Thursday, via UT San Diego. "It's a mindset. If you are in the right mindset, you're going to make the tackle. It's in between the ears and what's in the chest."
Either way, it sounds like Te'o is ready to go.
"Football is the same game," he said. "I've been playing it since I was 6 years old. Guys who want to hit are going to make tackles. Guys who don't want to hit are going to miss tackles. I wouldn't be surprised if I'm going to miss some on Sunday. But you know what? I'm going to make some too."
Follow Josh Katzowitz on Google+
The Steelers didn't have to look far to find their replacement for Todd Haley

The pop superstar will seek halftime show redemption at Super Bowl LII

Our computer model simulated the AFC and NFC title games 10,000 times with surprising resu...
Todd Haley's name has also been floated as a possible replacement

It wasn't the matchup that we expected, but the Jaguars would argue that's everyone else's...

CBS All Access allows viewers to stream every NFL game on CBS in their local market