Manziel's solid first outing indicates Browns shouldn't wait to start him
Johnny Manziel received some boos and some mocking from opposing players in his NFL preseason debut. But he also showed why the Browns should get him in the lineup and keep him there.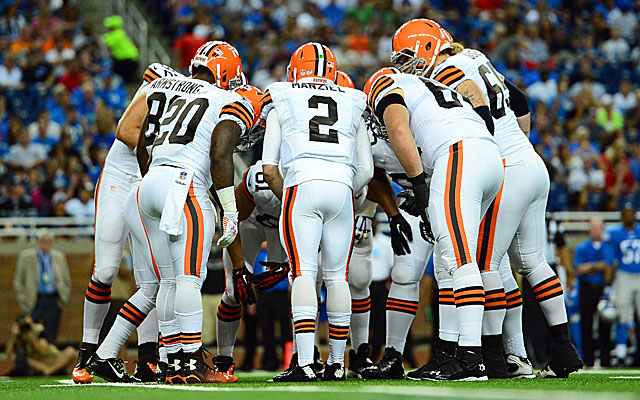 More NFL: Photos |  Videos & GIFs |  Training Camp updates | Manziel watch
DETROIT -- Johnny Manziel made it rain in Detroit on Saturday night.
Not champagne or dollars, which some of you might expect, but boos.
Welcome to the NFL, kid.
When Manziel took over as quarterback of the Cleveland Browns from Brian Hoyer with 7:32 left in the second quarter of the team's preseason opener against the Detroit Lions here at Ford Field, there were a smattering of boos. When his name was announced to the crowd a couple of minutes later, it was much worse.
That comes with the territory when you flash dollar signs, hang out with stars -- yes, even that Bieber kid -- and happen to be one of the most electrifying college quarterbacks ever.
Even some Lions were jokingly making Manziel's trademark money sign during pre-game warm-ups.
No. 2 has a bull's-eye on his back in life, but even more so on the football field.
Veteran players hate guys who come into the league with fanfare and haven't done a thing yet, more so when TMZ has his name on its site all the time and LeBron -- that LeBron -- considers him one of his guys.
Manziel had a solid first outing, completing 7 of 11 passes for 63 yards and running six times for 27 yards as the Lions beat the Browns 13-12. Manziel also took a few shots on his runs, but even after trainers looked at him he was able to stay in the game.
Hoyer is the guy for now, even if that's delaying the inevitable, and it looks as if the Browns want to put off Manziel playing as the starter for as long as they can.
Why?
Here are some observations from the game, many Manziel related:
•Manziel completed his first pass for 6 yards to Anthony Armstrong on an out. It was a nice throw, with good zip, but an easy throw to get him going. It was from the pocket out of the Pistol formation. He got to a third-and-1 on that series, his only series of the first half, and from the same formation he faked the dive, tried to pull it out and run outside to his left. But Lions linebackers Travis Lewis and Tahir Whitehead were there to hold him to no gain.
In the SEC, that's a first down. In the NFL, where the speed is that much better than even college football's best conference, it's time to punt.
Manziel will learn that lesson quickly.
•Manziel opened the second half under center and was again in the same Pistol formation and continued to run the zone-read plays. It's similar to what Browns offensive coordinator Kyle Shanahan used when he was with the Redskins and Robert Griffin III was a rookie.
I hate it.
Let the kid play quarterback. Yes, Manziel is mobile and he's short, but the book from all scouts and personnel people is that he's a savant when it comes to the playbook and his reads. Creating gimmicky stuff presents the idea that he can't handle playing in the pocket or the progressions. I disagree.
And you can't find out unless you let him.
What I sense is the Browns want to create a package for Manziel to use during the regular season if Hoyer is the starter.
I also see it stunting his growth. Eventually you have to be able to play inside the pocket, as all mobile quarterbacks find out. Shanahan should know better. Look how ineffective his option runs were once Griffin got hurt. He was a different quarterback without the crutch of being able to run.
•On Manziel's third series, his second of the third quarter, Shanahan went to a more conventional I-formation offense and Manziel had the Browns on the move. He hit a nice 14-yard throw from the pocket down the middle to Taylor Gabriel .
Manziel stood in the pocket nicely and then fired a dart to Gabriel. Manziel also ran for 16 yards on a scramble from the pocket.
I think that's where his mobility will be even more of a weapon. He can slide away and turn pressure into big plays. He looked quick as he made that run. As he matures, he will keep his head up and make pass plays when on the move.
In the third quarter, playing more conventional quarterback, Manziel was 6 of 10 for 57 yards. He had four runs for 26 yards.
Manziel wasn't flawless by any stretch. There was one pass where he felt pressure behind him -- and it was coming -- but he had time to step up and throw. Instead he took off and ran.
He also passed on an open slant to check the ball down into the middle. That showed he doesn't yet know the difference between open in the NFL and open in college. That will come.
•So what about Hoyer? He was 6 of 14 for 92 yards, but 28 came in a little dump-off to fullback Marqueis Gray. I could have thrown that pass, but he made the right decision.
He was high on two shots down the field to Josh Gordon , but he did hit Gordon for 22 yards and 12 yards on his third series to lead the Browns to a field goal.
Hoyer stayed on the field for the first drive of the second quarter and was working mostly against the Lions backups, while he had his first-team offense with him.
That was the supposed script for him in terms of playing three series, but it also helped the cause for those who insist he should be starting.
Hoyer wasn't awful. He wasn't great. He was just OK.
And that's the problem.
Just OK can win a handful of games, and maybe even have a playoff-type season, but it isn't sustainable. That's why getting to Manziel as fast as possible as the starter makes sense.
If he flops, then a year from now you go get another one. Hoyer is what he is, which isn't a franchise quarterback.
Manziel might be.
•It's a shame Gordon is facing a suspension. The kid has superstar written all over him. Watching him run routes, especially on the fast track inside here at Ford Field, he has a chance to be an all-time great.
Gordon is big, fast and knows how to use his body and set up defensive backs, which is special for a third-year receiver. He was open on both dig routes that Hoyer airmailed.
Without him, the Browns have little in terms of outside players who scare. Miles Austin comes over from Dallas, but he's 30 and in his ninth season. How much does he have left? Austin did have a one catch for 13 yards and nearly had another deep one that ended up being out of bounds. They also have veteran Nate Burleson. 
There are some young players who are intriguing outside, including Gabriel and Charles Johnson , but Gabriel's a rookie and Johnson is in his second season. Andrew Hawkins , who came over from Cincinnati, and Travis Benjamin are also in the mix.
One thing is certain, tight end Jordan Cameron , who had his breakout season in 2013, will see a lot more doubles this time around without Gordon on the field.
The decision on Gordon's suspension for violating the league's substance-abuse policy is expected to be handed down in the next few weeks. The Browns have to be hoping he only gets eight games, but even that might be too difficult to overcome.
•The Lions are running a new offense with new coach Jim Caldwell. It will feature more of the short-passing game. It will be interesting to see how that works with Matt Stafford's big arm and gunslinger ways and Calvin Johnson , the NFL's best receiver, outside.
Johnson didn't play against the Browns and Stafford played one series, going 2 for 4 for 18 yards. He did hit newcomer Golden Tate for a 14-yard shot inside.
Seeing how Stafford fits in the offense will be something to watch the rest of the preseason.
•Lions second-round pick Kyle Van Noy was active at linebacker. He isn't listed as a starter yet, but he will be. He has the speed teams need now with so many offenses spreading defenses out.
•The Lions rotated a bunch of bodies up front on defense, which they will almost certainly do during the season. They have talent and pass rushers. The best of the group is defensive tackle Ndamukong Suh , who is entering the final year of his contract. That's something to watch down the road.
•I love Lions right guard Larry Warford . He was really good as a rookie and he should be even better this time around. In a league where guard talent is down, the Lions have a keeper.
An example of how not to use social media

Mike McClure, a DFS pro with more than $1M in winnings, gives optimal DraftKings and FanDuel...

Let's check in on the Giants a day after their loss to the Lions
Mike McClure has made over $1 million playing DFS and gives his best daily fantasy football...

The veteran linebacker is the franchise's all-time leader in sacks

It's unclear when Timmons, a free-agent signing in the offseason, will make his Dolphins d...