Mapping where all the free-agent quarterbacks will end up
This season's group of QBs for hire might not bring much of a wow factor, but one or more of them will likely save the season for their new NFL team.
• 7 min read
More NFL offseason: Mock Drafts | Prospect Rankings | Pro Days | Top free agents
Never discount the importance of a quality backup quarterback.
He can save a season.
He can keep hope alive while the starter is ailing. He can help teach the system to rookie passers and groom them for success. He can set a tone in the locker room and position rooms where elder players mentor the young. He can be an extension of the coaching staff and provide a gentle, and at times not-so-gentle reminder that competition is very real in the NFL, and there is someone older, wiser and more experienced who just might take your place.
So while the first reaction to the group of free-agent quarterbacks -- and soon-to-be free-agent quarterbacks -- is to be overwhelmingly underwhelmed, I'd caution you to think twice. Sure, I agree that this class is devoid of much oomph, but let's keep in mind that's almost always the case. Top notch quarterbacks don't hit the market; they make $15 million a season, or more.
But that doesn't mean this group of veteran quarterbacks isn't valuable, or that they won't serve a very real and very important purpose wherever they land. Because they will do just that. Some more than others. They will all be one snap away from having to start for an extended period of time and some of them will end up winning the starting gig sooner rather than later.
Keep in mind, more than most any other position, and especially at the backup spot, familiarity will carry the day as to where these quarterbacks land. Their preexisting relationship with coaches, knowledge of the system, ability to digest information and help transfer it to others and willingness to subjugate themselves to help cultivate a youngster will go a long way to helping establish their unique value to certain franchises.
So, here is where I see the most notable names of this quarterback class landing (and I am including several players who have yet to be released by their current clubs in this list, but, trust me, veterans like Mark Sanchez and Matt Schaub , who are out of favor and have looming roster bonuses due soon, will be on the open market soon enough).
Michael Vick , New York Jets : As I have reported, Vick will not be back with the Eagles and is exploring other options. Buffalo, Minnesota and maybe even San Francisco will pursue him (I continue to hear there are some teams that would come as a surprise that have interest in Vick). But the Jets are where I expect him to land. GM John Idzik is tight with the purse strings, but Geno Smith is by no means entrenched as the answer at quarterback. Vick has displayed a willingness to work with a young QB, he has a life's worth of ups and downs and real life experience to share with Smith and try to keep him on the right path, and Vick has played the best football of his career under offensive coordinator Marty Mornhinweg in Philadelphia, who is the coordinator in New York. I see this one coming together, and it might not even take that long to do so ... but the longer Vick is on the market the likelier it is he ends up someplace else.
Josh McCown , Minnesota: McCown was outstanding in Chicago last season and he has plenty of suitors after the Chicago Bears paid (I'd say grossly overpaid) to keep Jay Cutler . Going from one quarterback whisperer -- Marc Trestman -- to another (Norv Turner) makes a ton of sense, and the Minnesota Vikings have some emerging talent on offense and McCown already knows the division quite well. The Vikings saw the best of him up close last season, and he is looking for a place to play quickly. With Matt Cassel opting out of his deal and very likely to explore other options in free agency, and Christian Ponder just a guy at this point, this would be a great spot for McCown. He is accustomed to playing in the cold. He will be willing to be very patient to find the best spot to advance his career. I like this fit. (Is there a spot for long-time Turner-guy Charlie Whitehurst in Minnesota as well?). McCown knows new Tampa Bay coach Lovie Smith some from their time together in Chicago as well, and that's also a natural landing spot for him, though I'm going to follow my gut and slot him to the Vikings.
Matt Cassel, Houston: Cassel knows Houston Texans rookie head coach Bill O'Brien and fits the mold of what he looks for in a quarterback. He will be able to teach the system to whomever the team takes with the first-overall pick (my money is on Blake Bortles right now) and be an outstanding citizen as well, showing the kid QB the way on field and off. Cassel is an upstanding man, someone who people naturally root for, and he knows O'Brien from their ties to the Patriots. If he really wanted to be back with the Vikings that deal would have already happened. Might as well see this thing through now and see what kind of money, and opportunity, is out there for you elsewhere, and once the Texans clear the $10M from releasing Schaub, Cassel will look like a bargain. And remember, even at No. 1 overall the quarterback they take won't be making big money, either.
Matt Schaub, Cleveland: With the Cleveland Browns firing their front office and going with rookie GM Ray Farmer and rookie coach Mike Pettine, the likelihood they trade up or go big for a quarterback at the top of the draft has greatly diminished. I'd be surprised if they took a passer in the first round. They want competition for Brian Hoyer however, and Schaub already knows this system inside out from his time with offensive coordinator Kyle Shanahan in Houston. In fact, he thrived under him. Schaub is not as mobile and spry as he used to be, but with a new offensive system in place there, Schaub is an obvious choice and after making $15M a year the past few years, he will come cheaply. ( Rex Grossman would be a fall-back plan here, with his Shanahan ties).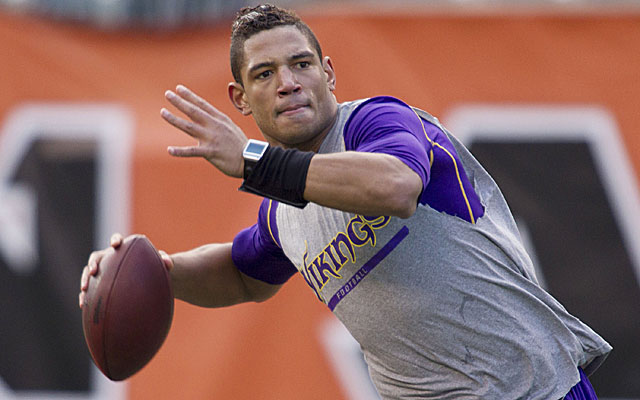 Josh Freeman , Oakland: Remember Josh Freeman? Yeah, he was a first-round pick, used to be a starter, set a bunch of team records with the Bucs, got $3 million from the Vikings to do absolutely nothing last season following his release by Tampa Bay, and, well, yeah, he's a free agent now. But recall that Freeman had that success in Tampa when Greg Olsen was leading the offense there, and Olsen is now the offensive coordinator of the Oakland Raiders . Oakland's brass is done with Terrelle Pryor , Matt McGloin is still a project and even if the Raiders draft a quarterback high, they will still need a veteran. Maybe Freeman finally is fully motivated and the light has come on. He will definitely come very, very cheap -- always a plus in Oakland -- and if someone throws him a lifeline, I believe it will be the Raiders.
Mark Sanchez, Buffalo: I almost put him with the San Francisco 49ers , who want to upgrade over Colt McCoy as their backup, but Colin Kaepernick is a horse and unless he got hurt, Sanchez would never have a chance to play. EJ Manuel , meanwhile, first-round pick in 2013 or not, was pretty brutal last season, and the surprising decision to take him as high as Buffalo did could end up costing people their jobs. So, it stands to reason that the backup for the Buffalo Bills could end up getting a good long look sooner rather than later. After being under the media glare with the Jets, going to a much lower-profile team could do Sanchez some good. Few places are more under-the-radar than Buffalo. Sanchez knows the division. Why not?
Matt Flynn , Green Bay: No reason to try to go anywhere else. He has made his money, he is who he is and this is where be belongs. The nomad thing ran its course. Flynn gets along well with Aaron Rodgers , he does his best under the guidance of Mike McCarthy and he helped the Green Bay Packers sustain their season in 2013 with Rodgers injured. Get this done.
Shaun Hill , San Francisco: He is a competent veteran quarterback and he's held in high regard. With a quality coaching staff like the 49ers have, this makes sense. He would be a nice complement to Kaepernick and he is going to end up with one of these teams in need for a veteran. Maybe it ends up being Tampa Bay. That wouldn't surprise me at all, either. But I could see him going with Jim Harbaugh.
Check out the uniforms that Kansas City and Oakland will be wearing on Thursday

Cliff Avril's NFL career might be over

Oct. 18 is a very special day in NFL lore
The Falcons should not be making any plans for Minnesota in February

The Colts star quarterback could end up missing the entire 2017 season

Not even two Super Bowl wins is enough to get Eli Manning any respect