Mario Williams, former fiancee agree to settlement on $785K ring
Mario Williams and his former fiancee have come to a settlement on an engagement ring he once gave her.
• 1 min read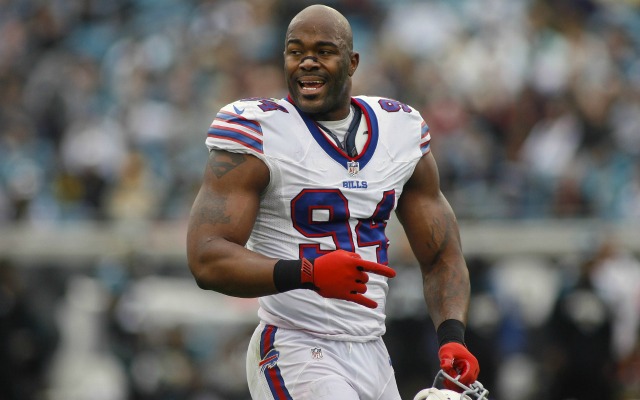 Last May, after Mario Williams and his ladyfriend broke up, the Bills defensive end sued his former fiancée to recover the $785,000 10-karat ring he once had bestowed upon her, alleging that Erin Marzouki never actually planned to marry him. In response, she released his alleged text messages in which he talked about having suicidal thoughts.
On Thursday, though, the two released a joint statement saying the matter had been settled, via the Buffalo News. Terms of that settlement were not released.
In a statement released to the paper, the two said, "Mr. Williams apologizes for initiating the lawsuit. Ms. Marzouki did not deserve the media backlash she received as a result of this lawsuit, because it in no way describes her good character.
"Mr. Williams believes that Ms. Marzouki is a great person, and he regrets how their engagement ended.
It brings an end to a nasty fight in which Williams' side said Marzouki charged more than $330,000 to Williams' credit card before terminating the relationship and refusing to return the ring.
Marzouki then later released a text message in which Williams wrote, "No money in the world should leave me with suicidal thoughts." Also, this one: "I need to go back n my shell. There's no telling what Ill do to myself at this point. I'm sry Ill disappear from now on." Marzouki's side also said Williams experienced dramatic mood swings during their relationship.
"Ms. Marzouki regrets that after the lawsuit was filed, certain text messages were released by her lawyer without her knowledge that were taken out of context by the media," the joint statement said. "Ms. Marzouki believes that the media reports do not reflect the good character of Mr. Williams."
Follow Josh Katzowitz on Google+
It appears the Raiders didn't break any rules during their hiring of Jon Gruden

Jacksonville cornerback does not lack confidence heading into AFC Championship

Payton was seen mocking Vikings' fans at the end of the Saints-Vikings game on Sunday
Tom Brady didn't really feel like talking about his hand injury on Friday

Anderson was also arrested in May

Conspiracy theorists, your time has come