Mario Williams sets Bills sack record, Jets' Antwan Barnes not impressed
Jets linebacker Antwan Barnes says that Mario Williams' 4.5 sack game against Carolina wasn't that impressive because it came against the Panthers.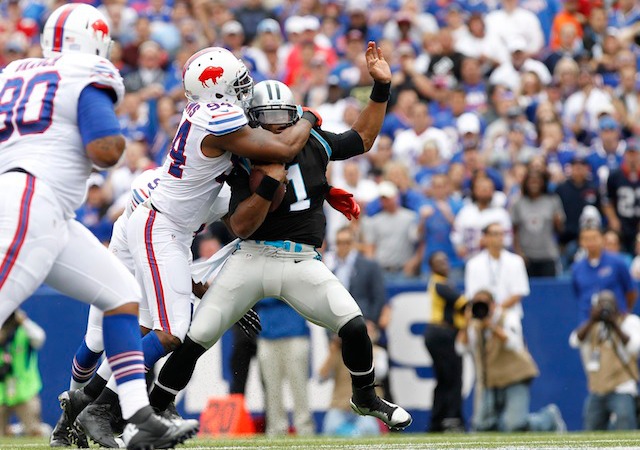 Buffalo Bills defensive end Mario Williams had a pretty good game against the Carolina Panthers on Sunday. Williams tallied a Bills franchise-record 4.5 sacks in Buffalo's 24-23 win over Carolina. Williams 4.5 sacks were also a career single-game high. 
Williams broke the the previous Bills sack record of four, set by Bruce Smith and matched by Cornelius Bennett. 
Jets linebacker Antwan Barnes wasn't that impressed by Williams' performance. And that's mainly because it came against Carolina. 
"It's the Panthers we're talking about," Barnes said with a laugh, via Newsday. "Obviously, he's a first-round pick, they pay him so much money, so he's got to go out there and do something. For our O-linemen, it's the same. They go against us every day. They won't be scared or intimidated by it."
They might not be intimidated by it, but that doesn't mean Williams won't blast Jets quarterback Geno Smith once or twice on Sunday.
In two career games against the Jets, Williams has tallied 18 tackles and two sacks. Not to mention the Jets offensive line hasn't exactly been doing a fantastic job of protecting Smith. Through two games, Smith has been sacked nine times, making him the second-most sacked quarterback in the league behind only Brandon Weeden, who's been sacked 11 times. 
Of course, if the Panthers are offended by what Barnes said, they can take out on him in Week 15 when Carolina hosts the Jets.
Warren Sapp was one of several players named in a lawsuit against NFL Network

Check out the uniforms that Denver and Indianapolis will be wearing on Thursday

The Cowboys are going to need a few things to go their way to get into the postseason
Rudolph will be put under the microscope in Mobile by clubs looking for a quarterback early...

This fan is taking the Saints to court for using 'football games as a platform for protest...

Can Aaron Rodgers get the Packers to the postseason? Even if they win out, they'll need he...