Marshawn Lynch fined $100,000 for avoiding media
Marshawn Lynch's decision to not talk to the media has cost him $100,000.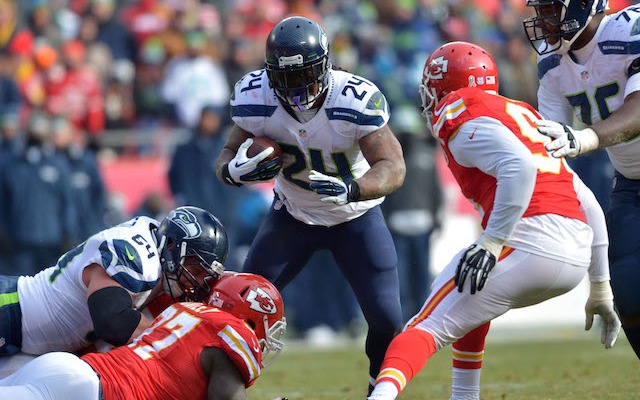 Marshawn Lynch's decision to continually avoid the media is going to cost him some serious money. The NFL announced on Wednesday that Lynch has been fined $100,000 for not meeting his media obligations. 
"Marshawn Lynch has been fined $50,000 for violating the NFL Media Policy," the league said in a statement.  "In addition, the league will collect the $50,000 fine that was imposed following violations of the media policy during the 2013 season but held in abeyance in anticipation of future cooperation."
Lynch was fined $50,000 before Super Bowl XLVIII, but the league suspended the fine with the caveat that it would be reinstated along with an additional $50,000 if he refused to cooperate with the media in the future.
Seahawks coach Pete Carroll was asked about Lynch's suspension during his press conference on Wednesday. 
"I'm aware of it," Carroll said. "It's the rules and all of that."
The NFL had threatened to fine Lynch if he didn't meet with the media after Seattle's game in Kansas City on Sunday. Lynch clearly wasn't fazed by the threat as he left the locker room quickly after the Seahawks 24-20 loss.  
Lynch did talk to two NFL Network reporters on the phone after the game, but that wasn't enough to satisfy the league's media obligations. 
From the league's media police, "The NFL Media Policy mandates that players must be available to the media during the practice week at the team facility and in the locker room following all games. Star players, or other players with unusually heavy media demands, must be available to the media that regularly cover their teams at least once during the practice week in addition to their required postgame media availability."
In other money news involving Marshawn Lynch, he did return a guy's lost wallet this week. Maybe if that wallet would've belonged to someone in the media, the NFL wouldn't have fined Lynch, but it didn't so he's going to have write a $100,000 check.  
I'm guessing Marshawn Lynch's reaction to being fined $100,000 went something like this. pic.twitter.com/t9gTm27FYK

— John Breech (@johnbreech) November 19, 2014
The Titans are getting ready to unveil a uniform that won't be 'anything close' to any other...

The NFL announced on Friday that 32 compensatory draft picks have been awarded to 15 teams
Jonathan Martin's old high school was forced to close on Friday after he appeared to threaten...

It doesn't look like the Jaguars will be making any front office changes anytime soon

The Buccaneers quarterback received a citation after causing a car wreck February 13