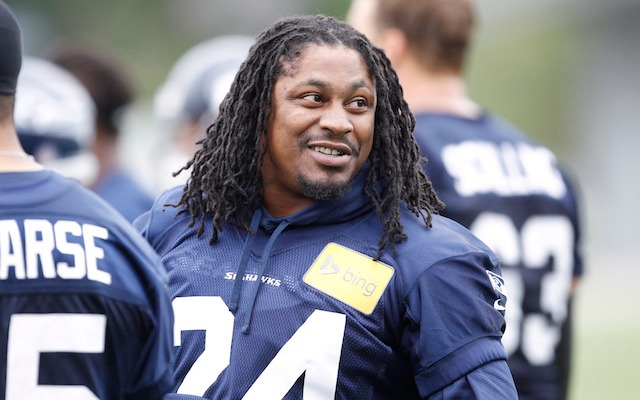 Marshawn Lynch has apparently decided that his holdout is over. The Seahawks running back reported to training camp on Thursday. Fox Sports 1 caught a picture of Lynch in Seattle. 
Oh hi, guy pic.twitter.com/Q8Rd2RQTIm

— Mike Garafolo (@MikeGarafolo) July 31, 2014
Lynch reported to Seattle despite the fact that he won't be getting a new contract from the team. However, the Seahawks will "add some financial concessions to the contract," according to ESPN.com. 
Those concessions include a higher base salary for Lynch this year, according to ProFootballTalk.com.
Under his prior deal, Beast Mode was scheduled to make a $5 million base salary in 2014 and then would have been able to tack on another $1 million in the form of a $500,000 roster bonus and a $500,000 bonus for hitting the 1,500-yard mark.
However, under the new deal, Lynch will just get $6 million guaranteed. The Seahawks are also taking $500,000 of his 2015 bonus and giving it to him in 2014. Lynch can make up to $7.5 million in 2015, but he'll count $9 million against the salary uncap, so it's no sure thing that Seattle would hold on to him next season.
As part of the new deal, Lynch also won't have to pay any fines for missing camp. Beast Mode missed a total of eight days of training camp and would have potentially been subject to over $500,000 in fines.
The team was allowed to fine Lynch $30,000 a day for the first six days, after that, Lynch was subject to fines of $60,000 a day. The team would also be allowed to fine Lynch 15 percent of his prorated signing bonus after six days of missing camp. The sixth day of Lynch's holdout came on Tuesday, which could have possibly meant another $225,000 in fines.
Lynch has always done things a little differently, including this holdout. The Seahawks running back announced his holdout by having an ex-teammate announce it on television. Lynch told former Seahawks fullback Michael Robinson during a phone call that he would be holding out and then Robinson relayed that message to America during a segment on NFL Network.
If the holdout was for money, Beast Mode didn't have much leverage, but he appears to have gotten enough of a concession on the Seahawks part to show up for camp.
The fact that Lynch is making more money in 2014 is a slight surprise, coach Pete Carroll made it clear last week that the Seahawks wouldn't be giving Lynch a raise, "It's a contract for a reason. We made a decision and it was signed, by us and by them," Carroll said. "We expect them to honor their contract just as we will. We're going to honor it and we expect them to do the same."
As long as there's no ill-will between Lynch and the Seahawks, Beast Mode's holdout won't really hurt anyone. The 28-year-old got to rest his legs for a week, plus he got to finish filming his movie, Family First. The personal project of Lyncs, which will chronicle his life from childhood to the Seahawks Super Bowl win, finished shooting on July 24.