Marshawn Lynch likes his O-line coach because he punches people
Marshawn Lynch says that Seahawks offensive line coach Tom Cable is his 'type of person' because Cable likes to punch people.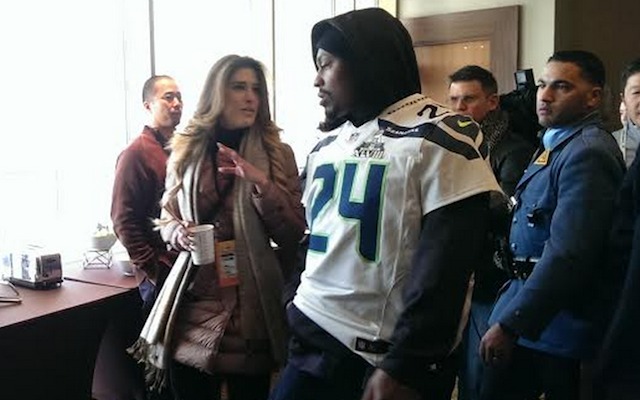 More SB coverage: XLVIII odds | Expert picks | Super Bowl weather | Latest news
JERSEY CITY, N.J. -- Marshawn Lynch's media obligations for the week are finally over and Beast Mode went out with a bang. The Seahawks running back answered questions for almost nine minutes on Thursday, his longest interview session of the week, and he delivered what might go down as the most memorable quote of Super Bowl week. 
Toward the end of his interview, Lynch was asked his thoughts on Seahawks' offensive line coach Tom Cable. The former Raiders head coach is finishing up his third season in Seattle. "Being from Oakland, all I knew about him is that he punched people," Lynch said. "That's my type of person."
Of course, Lynch is referring to an incident in 2009 when Cable was accused of punching a Raiders assistant coach and breaking a bone in the assistant's face. Cable later denied the accusation and said the assistant coach was injured when Cable flipped him out of a chair.
Cable wasn't the only topic of conversation on Thursday. In a seperate interview with SI.com, Lynch talked about his dog and what his favorite part was about being in college. As you might have guessed, Lynch's dog spends most of its time being a dog, "He's out doing his doggie dog thing, living in his doggie dog world," Lynch said.
Lynch also mentioned is favorite thing about attending Cal, "My favorite college experience was probably leaving college. But the Ghost Ride was up there," Lynch said, referring to the time where he drove a golf cart to celebrate a Cal overtime win in 2006. 
Unfortunately, we won't be getting any more stories from Lynch this week because Seahawks players are off-limits to the media until after Sunday's game. 
(Here's video of Lynch in Ghost Ride Mode) 
Super Bowl tattoos are never a good idea until your team has actually won the Super Bowl

A couple of dogs emerge victorious in the Conference Championship round

Our computer model simulated the AFC and NFC title games 10,000 times with surprising resu...
If the past 18 weeks are any indication, Tom Brady could be in trouble Sunday

The Patriots quarterback has been listed as questionable for Sunday's AFC Championship

It appears the Raiders didn't break any rules during their hiring of Jon Gruden