Marshawn Lynch likes Skittles, so man wears Skittles costume
Seahawks running back Marshawn Lynch really likes Skittles, so logically, a fan in Seattle decided to wear a Skittles costume to the NFC Championship game.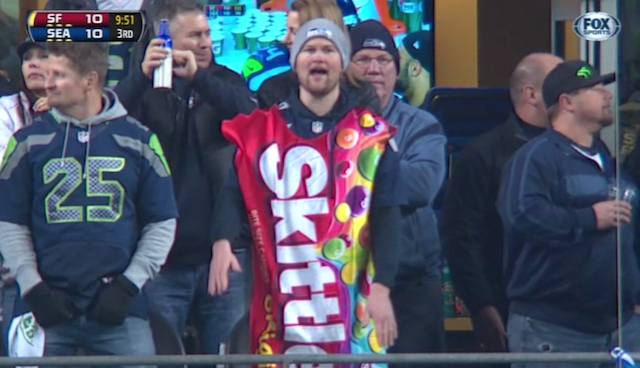 One fan in Seattle has taken Marshawn Lynch's love of Skittles to the next level. As you can see above, a Seahawks fan decided to wear a Skittles costume to the NFC title game on Sunday. He went Full Skittle. No one should ever go Full Skittle. 
Anyway, Mr. Skittles -- who probably has a real name, but I don't know it, so I'm going to call him Mr. Skittles -- got real excited in the third quarter when Lynch scored a touchdown that tied the game at 10. How excited did Mr. Skittles get? 
Excited enough to do this.
There's a lot of dancing going on in that GIF, so you may have to stare at it for several minutes before you can grasp it. The guy in the Richard Sherman jersey is doing a casual dance. The guy holding the Bud Light bottle is doing the 'I'm slightly drunk' dance. And the Skittles guy, well, he's doing the Skittles dance because what other dance would the Skittles guy be doing.
You can follow the second half of the NFC title game using CBSSports.com's GameTracker here. 
(Wink of the CBS Eye to Tom Fornelli)
Check out the uniforms that Kansas City and Oakland will be wearing on Thursday

Cliff Avril's NFL career might be over

Oct. 18 is a very special day in NFL lore
The Falcons should not be making any plans for Minnesota in February

The Colts star quarterback could end up missing the entire 2017 season

Not even two Super Bowl wins is enough to get Eli Manning any respect