Marshawn Lynch tells ex-teammate: I'll be holding out of training camp
According to former Seahawks fullback Michael Robinson, Marshawn Lynch will not be reporting to training camp.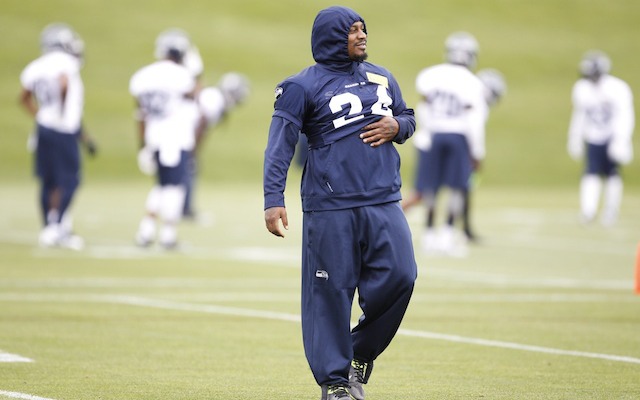 It looks like Beast Mode is going into 'Hold Out Mode.' Former Seahawks fullback Michael Robinson said on Thursday that he talked to Marshawn Lynch on the phone and that Lynch told him he'll be holding out from training camp. 
"Marshawn Lynch just called me. We just talked," Robinson said during a segment on NFL Network's Inside Training Camp. "He said he will be holding out from training camp this year with the Seahawks."
Another former teammate of Lynch's, Jordan Babineaux, said in June that Lynch might even consider retiring. "The bottom line is, it is about the money. When a guy starts producing the way Marshawn has been producing, he wants to be paid," Babineaux said. "I don't want to rule out the fact that there could still be a possibility, because of Marshawn's personality, that retirement could just be something that he's OK settling for."
Lynch doesn't have much leverage at this point and the Seahawks have made no indication that they're going give him more money. The running back is signed through 2015 and is scheduled to make a total of $10.5 million in base salary over the next two seasons. Lynch's contract also includes a total of $2.5 million in per game roster bonuses.
For the 2014 season alone, Lynch is schedule to pull in $5.5 million.
Robinson isn't so sure it's about the money though, "I don't know if there has been any talking back and forth but what I do know is Marshawn is a guy who is not all about money," Robinson said. "If it was about money he could have done interviews after games and made a lot of money with Skittles if it was all about money."
At 28 years old, Lynch is getting close to 30, the age where most running backs begin to dramatically lose their production value. The Seahawks running back may be hoping he can do something similar to what Jamaal Charles did in Kansas City this week. Charles threatened to holdout and was eventually rewarded with a $4.4 million raise on his 2014 pay.
"I think with Marshawn, he just wants to make sure he's set up so that his foundation can take off when his career is over," Robinson said.
If Lynch doesn't get what he wants -- and who knows what he wants -- maybe retirement will be the route he takes. According to NFL.com, the team has no plans to give Lynch a raise on his $5.5 million 2014 salary.
To add more intrigue, Richard Sherman said in February that Lynch had been telling teammates during the 2013 season that he would retire if the Seahawks won the Super Bowl. Sherman didn't believe him, but that doesn't mean it won't happen.
Of course this is Lynch we're talking about, so anything's possible -- and that includes him changing his mind tomorrow and showing up for training camp.
Either way, if you have fantasy draft this week, you'll probably want to hold off on drafting Lynch.
After an injury to Trevor Siemian, Brock Osweiler entered the game and helped the Broncos to...

The 32-year-old running back is done for the year

Brandon Williams was involved in a scary situation in the first half against Denver
The Broncos are turning back to Osweiler after an injury to Siemian

The Cowboys legend admits he's not on 'great' terms with the Cowboys suspended running bac...

Here's the latest information on injured Steelers linebacker Ryan Shazier