Marshawn Lynch will plead guilty to lesser charge in DUI case
Marshawn Lynch will plead guilty to a charge of reckless driving on Friday, according to his attorney. This will officially end a case that started in July 2012 when Lynch was charged with DUI.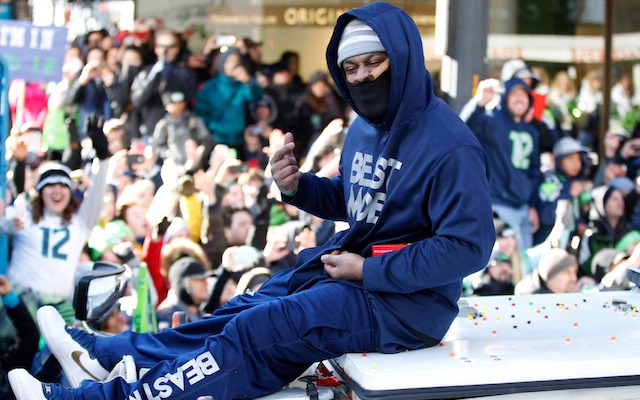 A DUI case involving Seahawks running back Marshawn Lynch that started in July 2012 will be coming to an end in on Friday. Lynch's attorney, Ivan Golde, told ESPN.com that Lynch has agreed to plead guilty to a lesser charge of reckless driving. 
Lynch was arrested on July 14, 2012 in Oakland, Calif. and later charged with DUI.  
"We are resolving the case Friday by pleading to a wet reckless," Golde said. "We have a strong case for trial and could win the case, but the last thing he needs is to go through a public trial." 
Golde doesn't want to put Lynch through a public trial because he doesn't think that would be in the running back's best interests. 
"He's a Super Bowl champion, and he has endorsements pending. For a guy in his position, it just doesn't make any sense to go through a public trial," Golde said. "He has a lot at stake here. You know Marshawn. He's not a media guy. It wouldn't have been good for him to go through all that."
Golde knows his client well. Lynch definitely isn't a media guy and he proved that at the Super Bowl when he did three interviews all week. All three interviews lasted less than 10 minutes. 
As for how this case will affect Lynch's standing with the NFL, Golde said he doesn't expect his client to be suspended. "I can't speak for the commissioner [Roger Goodell]," Golde said, "but my feeling is Marshawn is OK and will avoid a suspension."
After Lynch pleads guilty to the reckless driving charge, California law will require him to attend six classes on driving safety and alcohol consumption. 
The first-year cornerback has not been active in four weeks and drew a suspension earlier this...

McCown will help the coaching staff work with Bryce Petty and Christian Hackenberg

The Browns have a long way to go to be AFC North champs
Five selections against the spread for the upcoming Week 15 slate of NFL games

Here are 10 things to watch in Week 15, including a hot Bortles, a cold Brady and a new Eagles...

A couple of potential playoff teams have trouble covering against cellar dwellers in Week...