Mary Wilson, widow of Ralph Wilson, takes over as Bills owner
The Bills franchise has officially been passed from the late Ralph Wilson to his widow, Mary Wilson.
• 1 min read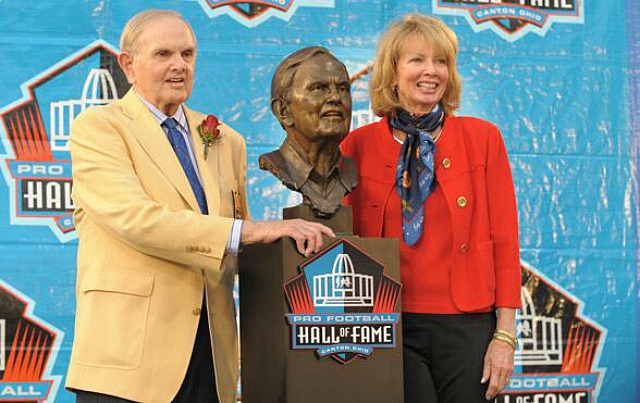 While Donald Trump waits on hold to see if he might like to think about buying the Bills, the team is moving forward in replacing the ownership position held by Ralph Wilson before he died last week.
The organization announced Thursday that Mary Wilson, Ralph Wilson's widow, has taken over the role of controlling owner. The team also said that a process will begin "at an appropriate time" for the sale of the franchise.
"This process will ensure that the club complies and is faithful to NFL rules and to its obligations to New York State and Erie County," the team wrote in the statement. "We plan to have detailed discussions with the NFL, the State and County, and others as we determine the timing and structure of any sales process."
Mary Wilson said that she has complete confidence in Russ Brandon, the team's president and CEO, to continue running the day-to-day operations of the team. And of course, general manager Doug Whaley and coach Doug Marrone will continue in their roles.
Wrote the team in the statement: "Brandon, Whaley and Marrone will direct the team with the same goal firmly in place -- winning."
If Thomas is right, that means it's bad news for DeShone Kizer's chances of starting early

The NFLPA denied the accusation and fired right back at the league

The Raiders bangwagon continues to take on passengers ahead of the 2017 season
Madden season is almost here again. Here's everything you need to know.

The Rams' No. 1 pick is anything but fazed after taking his lumps during a brutal rookie s...

Breaux, who emerged as the Saints' No. 1 cornerback during the 2015 season, could miss 4-6...