Mayor of Los Angeles thinks Chargers should stay in San Diego
Not everyone wants the Chargers to move to Los Angeles.
The city of Los Angeles currently has one NFL team and L.A. mayor Eric Garcetti wouldn't mind if it stays that way.
Part of the reason that Garcetti would like the Chargers to stay in San Diego is because he grew up as a Rams fan and was living in L.A. when the team left for St. Louis.
"The Rams were my team, I went to the Super Bowl [XIV] where the Steelers stole victory away from us," Garcetti told ESPN.com's Capitol Games podcast on Wednesday. "It's exciting to see them come back."
The mayor doesn't want Chargers fans in San Diego or Raiders fans in Oakland to experience the same pain of relocation that he had to go through.
"To take a franchise from their other area, I think is a tougher proposition. I'd like to see those home markets keep their teams," Garcetti said.
If the Chargers stay in San Diego, Garcetti sees the potential for a rivalry with the Rams.
"We'd welcome any team to come here, but I love the idea of a great rivalry [with a San Diego team]," Garcetti said. "I wish the [Chargers] nothing but the best of luck in the next year with San Diego."
Garcetti did add that he understands that Chargers owner Dean Spanos has a "business decision" to make.
"I'd be more than happy to see a great rivalry continue with the San Diego Chargers, if they can make that work. Otherwise, I think it's a business decision," Garcetti said.
The Rams and Chargers started negotiations this week on finalizing a deal that would move the Chargers to Inglewood with the Rams. However, Garcetti noted that the city is focused on the Rams right now.
"It's great to have one team, before we jump into a second," Garcetti said.
The mayor also joked that if push comes to shove, he'd rather have the Chargers as the second team in L.A.
"Crime has gone down every single year since the Raiders left L.A." Garcetti said. 
As for the Chargers, it seems the NFL would like them to stay in San Diego too. The league offered the Chargers $100 million extra to put toward a stadium if they stay in San Diego.
San Diego's $1.1 billion stadium plan would require $121 million in contributions from both county and city taxpayers for a total of $242 million. The city would also chip in another $225 million by selling land around Qualcomm Stadium. The rest of the money would come from the Chargers and NFL, with the league now promising a total of $300 million.
To get the $242 million from taxpayers, San Diego voters would have to approve those funds, something that they might be inclined to do if the Chargers remain in San Diego for 2016. The Chargers have until March 23 to decide if they're going to spend the 2016 season in San Diego or L.A. If the Chargers stay in San Diego, then they have until Jan. 15, 2017 to decide if they want to pass on moving to Los Angeles.
For Spanos, the decision is a tough one: Does he want to be a hero in San Diego and make slightly less money or serve as a second-fiddle team in L.A., but make slightly more money?
If the Chargers decide to stay in San Diego, then the option of moving to L.A. will belong to the Raiders, who will have one year to decide beginning on Jan. 17, 2017, or when the Chargers potentially decide to stay in San Diego.
As for the Rams, Garcetti isn't just excited for them, he's also excited that the Los Angeles area could be hosting other big-time events once Stan Kroenke's palace in Inglewood is finished.
"We talked about bringing the Super Bowl here every four or five years," Garcetti said. "We're looking at the Final Four. Also, this wasn't part of our Olympic bid. Now we can add this to the bid. It's huge. It says to the world that you can do a sustainable Olympics and be cost sensitive."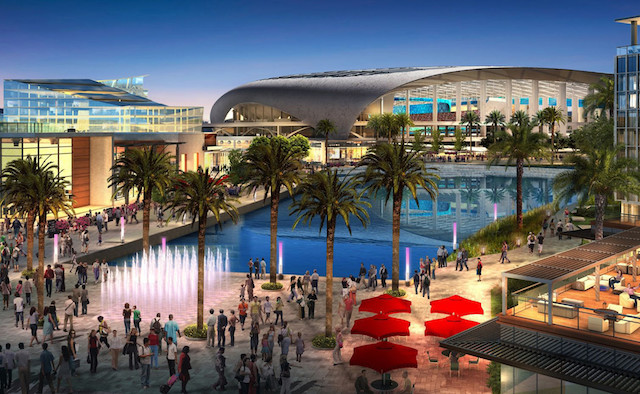 Warren Sapp was one of several players named in a lawsuit against NFL Network

Check out the uniforms that Denver and Indianapolis will be wearing on Thursday

The Cowboys are going to need a few things to go their way to get into the postseason
Rudolph will be put under the microscope in Mobile by clubs looking for a quarterback early...

This fan is taking the Saints to court for using 'football games as a platform for protest...

Can Aaron Rodgers get the Packers to the postseason? Even if they win out, they'll need he...