McCoy on Kelly: 'There's a reason he got rid of all the black players'
McCoy is not the first person to level racism accusations against Kelly this offseason.
In an interview with ESPN.com, Buffalo Bills running back LeSean McCoy answered a series of questions about his childhood growing up in Pennsylvania, his place in the league as a 26-year old running back, his new team, his new coach (Rex Ryan) and his former team and coach, the Philadelphia Eagles and Chip Kelly. About Kelly, here's what McCoy had to say (interviewer's words in bold, McCoy's in regular text):
You told The Philadelphia Inquirer in April that Chip doesn't "like or respect stars." What was the problem with you and Chip, and how did that relationship end?

The relationship was never really great. I feel like I always respected him as a coach. I think that's the way he runs his team. He wants the full control. You see how fast he got rid of all the good players. Especially all the good black players. He got rid of them the fastest. That's the truth. There's a reason. ... It's hard to explain with him. But there's a reason he got rid of all the black players -- the good ones -- like that. [Editor's note: The Eagles declined to comment on McCoy's statements.]

How many other players have shared that thought with you?

Oh, man. People have heard it. I mean ... Stephen A. Smith has talked about it. Other players have talked about it. But that's one of the things where you don't even care no more. I'm on a new team, ready to play. So it's nothing to do with Chip. I have no hatred toward him, nothing to say negative about him. When he got [to Philadelphia], I didn't know what to expect. When he let DeSean go last year, I was like: "C'mon. DeSean Jackson?" So it is what it is.
As the interviewer alluded to, McCoy stated earlier this offseason that Kelly does not want star players on his team, and that's why players like himself, DeSean Jackson and others were shown the door. "I don't think he likes or respects the stars. I'm being honest," McCoy told the Philadelphia Inquirer. "I think he likes the fact that it's 'Chip Kelly and the Eagles.'" Now, he's added the racial element to his thoughts on that subject.
McCoy is now the second former member of the Eagles to hint at possible racism on Kelly's part this offseason. Former Eagle Tra Thomas, who did not play for Kelly but served as an offensive line assistant the last two seasons, said earlier in March, "One of the things that you're seeing right now, and these are the things that you have heard from the locker room from different players is that ... they feel like there is a hint of racism."
It's impossible to know from the outside whether there's any truth to these accusations. We're not in Philadelphia's locker room to see what's happening. But we will note that five of Philadelphia's six picks in last weekend's NFL Draft are black players, as are the two running backs signed to replace McCoy -- DeMarco Murray and Ryan Mathews (Mathews is half-caucasian) -- and fellow free agent signings Byron Maxwell, Walter Thurmond, Miles Austin (half-caucasian), Seyi Ajirotutu and E.J. Biggers.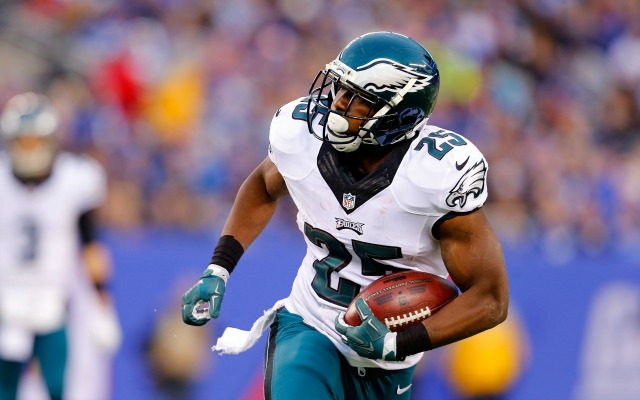 Dak Prescott was efficient and explosive and DeMarcus Lawrence was dominant in the Cowboys...

The Dallas receiver threw up the X after his score, and he certainly deserved it

The singer sent a message with a verse of scripture on Monday night
The Cowboys owner joined in a demonstration with the Cowboys players before Monday night's...

Look for Ezekiel Elliott and Dak Prescott to rebound after a rough outing in Denver

Quarterback Russell Wilson was one of the chief proponents for the Seahawks staying in the...