Media hornet's nest only one of many problems for messed-up Jets
An increasingly ugly relationship with the media is a problem, but it's all relative for the mess that is the New York Jets.
• 5 min read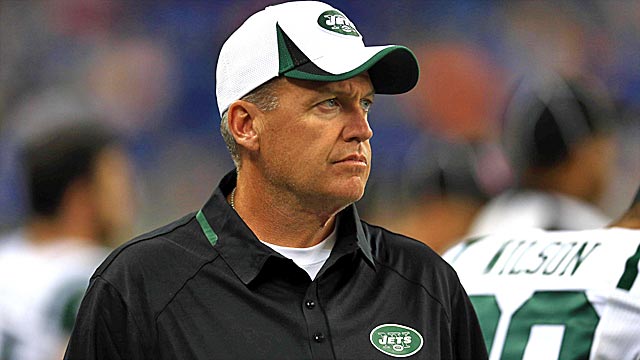 The New York Jets have at least one more opponent than the rest of the teams in the NFL this season. And if the pen is indeed mightier than the sword, then I don't fancy their chances at prevailing, at least not anytime soon.
If this latest Jets' melodrama, the one with Mark Sanchez suffering a relatively minor shoulder injury behind the second-string offensive line last week, is illuminating of anything, it's that the friction between the people who cover it couldn't be much more overt. It's gone way beyond business there. This war seems decidedly personal.
And, if it keeps up, there won't be any winners.
This was already set up to be a long, if not lost, season for the organization, the franchise jammed awkwardly into a quasi-transitional phase with owner Woody Johnson mandating any new general manager retain Rex Ryan as head coach, and a series of poor contracts mandating that players like Sanchez and Santonio Holmes, who would otherwise be gone, remain on the roster. Oh yeah, and the new GM also was instructed that he best trade the team's premier player, Darrelle Revis, ASAP because he wouldn't be getting a hefty new deal with the Jets when his contract expired after this season.
Throw in the fact that new general manager John Idzik has rid this building of many of its most willing off-the-record sources, and that Idzik has yet to endear himself to a media corps seemingly hostile to his very arrival, and you have a bona fide tabloid fight on your hands, with New Jersey Gov. Chris Christie now involved and chaos still the norm for Gang Green.
But, please, spare me the faux outrage over Sanchez, the same guy everyone wanted to run out of town after the butt fumble last season, if not sooner. The guy who is only there because of the guaranteed money tied to his contract. The guy who was being ridiculed for his propensity to continue throwing mind-numbing interceptions just a week ago in this very preseason.
That's the quarterback who is supposed to be under bubble wrap? Really? It's an affront to great quarterbacks everywhere and the football gods to put Sanchez behind a back-up offensive line in the third pre-season game as the staff continues to evaluate the position with rookie Geno Smith just back from injury himself? Because somebody was going to have to take those snaps, and the Jets season -- imperiled before they ever gathered for the start of camp -- is now doomed by Sanchez absorbing a tough blow?
Seriously?
The fact that it was Sanchez, and not, say, Greg McElroy, who appeared to have beaten him out for the job however briefly last season, is some seismic event, I suppose. Guess I missed that memo. Maybe it was only distributed in the MetLife Stadium press box.
Could Ryan have inserted someone other than Sanchez? I suppose. Would it really have mattered with this bunch? Doubt it. But considering Sanchez and Smith are the two vying to win the job -- or, actually, trying least to lose it, because let's not pretend anyone on this roster actually did anything to stake a claim that they should be a starting quarterback in the NFL -- then those should probably be the guys to play, with backups or not.
It happens, you know. When I covered the Redskins and Jason Campbell was a first round pick and Mark Brunell was the incumbent, there were times when someone would have been at risk playing behind a less-than-all-starters offensive line. And that was the great Joe Gibbs. It's football. People get hurt. We've seen Bill Belichick have Tom Brady playing in the fourth quarter of blowout regular season games or deep into meaningless preseason games, and he's the brightest coach of his generation.
So while it's easy to jump on Rex Ryan -- and he's done plenty over the years to make himself a target -- and heaven knows it's easy to start a media feeding frenzy in New York once there is a little chum in the water, let's not lose sight of the reality that the worst thing to come of this is a bruised shoulder for a guy who won't be back throwing passes for the Jets in 2014 anyway, when the team will still be trying to rebuild from the mess Idzik inherited.
And, please, allow me to chuckle at the notion that Ryan's misdeed – again, something not unlike gambles Hall of Famers like Gibbs and Belichick have made in the past -- should cost him his job in the preseason. Ridiculous. (To me, Ryan talking about wanting to win a preseason game was a bigger crime than playing Sanchez with some backups, actually).
Furthermore, good luck finding qualified candidates who would be dying to run into this situation themselves and take over. Not under the conditions Johnson has created. Everyone in the NFL already knows that its untenable in the short term and that Ryan is all but certain to be gone in 2014 anyway, as this organizational cleanup continues (I suppose it would be a cleanup in Aisle 6 at this point), but firing a coach now and kowtowing to media hysteria won't do anything to make this product any better to watch, or make the Jets any easier for their fans to cheer on.
Only sufficient time, and prudent thought and a long-term vision, and avoiding calls for knee-jerk action, will eventually get the circus entirely out of town in New York. It will require Johnson adopting a decidedly low profile and letting his football people operate unencumbered and putting marketing and media sizzle aside. Then, finally, the culture might change there.
But in the meantime, those local pens will be sharpened like a knife. They will be ready to pounce on any mistake, real or perceived, and no one in the front office will get the benefit of the doubt even though they haven't been there long enough to remotely come close to trying to slash the bloated contracts, get the cap back in order and begin to restock the abundance of positions in dire need of upgrades (pretty much any skill position applies).
Go ahead and doubt Pete -- because this is the week he turns it around with this picks

The president believes people are really responding to his criticism of the NFL

CTE has previously been thought to only be diagnosable in deceased patients
The Chiefs are up to No. 2 while the Falcons maintain their top perch

Our computer model simulated every Week 4 NFL game 10,000 times with very surprising resul...

There are only two unbeaten teams left in the league. Which team is better?