Miami police release 911 calls from Colin Kaepernick incident
A man believe to be Seahawks receiver Ricardo Lockette called 911 on April 2 to report that there was 'a young lady in my friend's bed' who's 'not leaving.'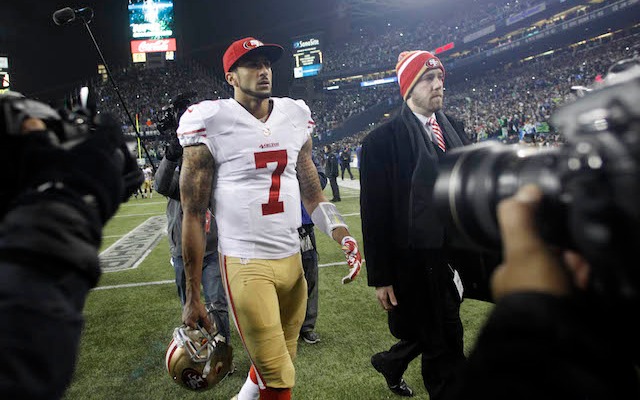 More Draft coverage: Mock Drafts | Prospect Rankings | Big Board | News
It's been over a month since Colin Kaepernick, Quinton Patton and Ricardo Lockette were all named in an incident report filed by a 25-year-old woman in Miami. Police haven't said much about the case as they continue to investigate, but on Tuesday, they did release audio of the 911 calls made in the early morning hours of April 2. 
A man believed to be Lockette called authorities just after midnight on April 2 saying that a woman wouldn't leave Kaepernick's room.
"I want to report there's a young lady in my friend's bed," the caller said, via the San Jose Mercury News. "He's not here. She's going to wait in his bed. She's not leaving. We asked her to leave. We told her he won't be here tonight. She said she's not leaving until she sees him."
As the call continued, the dispatcher asked if the woman was waiting for her boyfriend, "He's not her boyfriend. (Inaudible.) But he's not here so she went and got in bed naked, and said she's staying there until he got back," the caller said. Miami police wouldn't confirm that the caller was Lockette, a report originally made by WINZ-AM in Miami and also reported by the Sacramento Bee. 
A security guard at the resort also called 911 and said that there was a visitor that was unwanted and wouldn't leave the room she was in.
The security guard told the 911 operator that he asked the woman what her name was and she said it was 'Jesus.' The security guard also mentioned that the woman was crying. 
The original incident report doesn't make any accusations against anyone, but the woman did say that she got naked in front of Kaepernick, however, the man believed to be Lockette seems to dispute that in the 911 call. 
"She actually took her clothes off and laid in the bed," the caller said.
The woman eventually woke up in a hospital room and didn't "remember how she got there or who transported her to the hospital." However, it's now known that she was transported to the hospital by Miami Fire Rescue just after 12:30 a.m. on April 2. 
Kaepernick has maintained that he did nothing wrong. On May 2, the 49ers quarterback spoke publicly about the incident for the first time.
"It's been put out that I did something wrong," Kaepernick told 900 people at the Turlock (Calif.) Mayor's Prayer Breakfast. "Even though it's a bad circumstance, a bad situation, I feel like ultimately I've been blessed because it's changed my way of thinking. It's made me stronger. It's made me look at things differently."
Kaepernick also has the support of 49ers coach Jim Harbaugh, who's heard his quarterback's side of the story, "The only victim in Colin's case is Colin's reputation," Harbaugh said.
For now, Miami police will continue to investigate, "Everything is pending, everything is still open," MPD spokesperson Corporal Frederica Burden said.  
The Oklahoma quarterback isn't exactly being discreet about where he wants to begin his NFL...

No one was hurt, but Fournette's Mercedes lost a bumper

It might be time to begin worrying about the Patriots quarterback
The Patriots are still odds-on favorites, but the other teams are closing in

SportsLine tapped into its Vegas sources to see who professional bettors like Sunday

Philadelphia readies itself for a massive celebration if the Eagles advance to the Super B...