The Seahawks beat the Falcons on Sunday, but that narrow win nearly came at a cost that wouldn't have been worth it. During the third quarter, Seahawks defensive lineman Michael Bennett went down with what appeared to be a serious knee injury. He did not return to the game.
The cause of that injury? This block by Falcons left tackle Jake Matthews.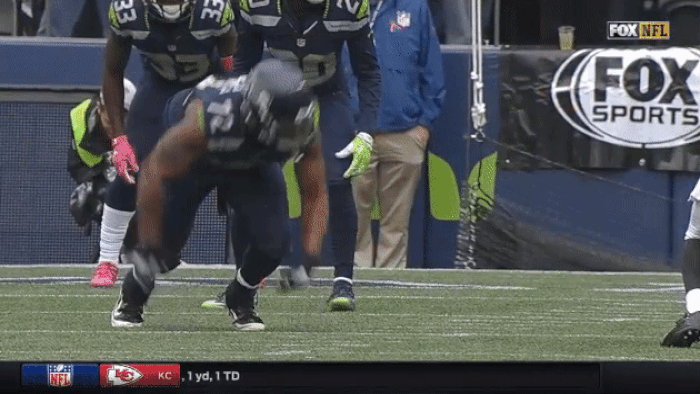 Bennett, who said afterward that he doesn't expect to miss next week's game against the Cardinals, took exception with that block. He was livid. And in typical Bennett fashion, he didn't hold back.
"To me it's a scary, [expletive] move," Bennett said, according to the Seattle Times. "Honestly, I think if you dive at someone else's legs, you're a little [expletive]. If you are big in the NFL, you just line up and play -- why you got to cut someone on the [expletive] play? I mean, I don't know. That [expletive] is just stupid to me. Why cut somebody when you can just line up and win? I don't know. I don't come off the ball jumping at offensive linemen's legs."
Falcons coach Dan Quinn disagreed with Bennett's assessment.
"He's a hell of a competitor," Quinn said about Bennett, per the Atlanta Journal-Constitution."It was not a cheap shot in any way by Jake. When it's a handful of a player, you try to get his hands down, cut, do whatever you can. I think it's likely [Bennett is angry] because he got banged up on the play. He's used to it [because] Seattle cuts a lot as well."
Michael Bennett wasn't the only Bennett who dealt with a low hit Sunday. His brother, Patriots tight end Martellus Bennett, got blindsided in the knee by Bengals linebacker Vontaze Burfict. The NFL is reportedly reviewing that hit, which Michael Bennett would most likely characterize as a "[expletive] move."
Luckily, both Bennetts are OK.
"I should be fine," Michael Bennett said. "I should be able to play next week.''
The Seahawks, who are built on the strength of their defense, can't afford to lose Bennett -- arguably the most versatile defensive lineman in the NFL. So far this season, he's Pro Football Focus' third-highest graded defensive end in a 4-3 scheme.
With a crucial divisional matchup against the Cardinals on tap, the Seahawks appeared to have dodged a catastrophe by lucking out in the injury department.