Michael Sam: I should've been drafted in the first three rounds
Michael Sam was selected in the seventh round by the Rams on Saturday, a little later than he was expecting.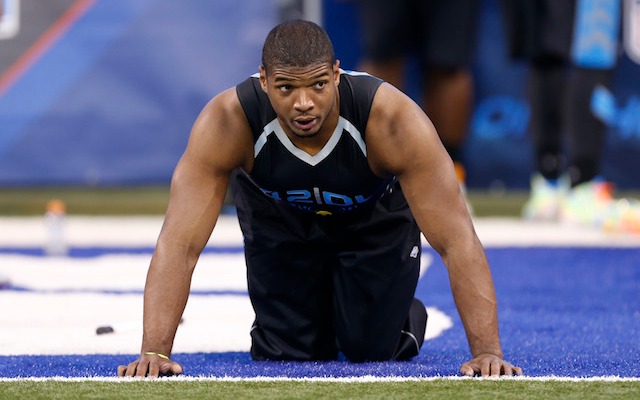 Draft coverage: Picks and grades | Prospect Rankings | Sam goes No. 249 | News
Former Missouri defensive end Michael Sam became the first openly gay player in NFL history to be drafted when the Rams took him with the 249th pick on Saturday, but Sam almost didn't make history because he almost fell out of the draft.
Sam was taken with the eighth-to-last pick, meaning he almost wasn't drafted at all, something he found rather shocking. The NFL's first openly gay player said he should've been picked higher. 
"From last season alone, I should've been in the first three rounds -- SEC Defensive player of the year, All-American," Sam said, listing off his 2013 accomplishments, via the Rams official website. "I should have gone in the top three rounds easily."
Instead of going in the first three rounds though, Sam almost didn't go in any round. So what would have happened if Sam wasn't drafted? 
According to NFL Network, the Bears, Giants and Ravens were all interested in signing Sam if he hadn't been taken by St. Louis. The Rams also would have tried to sign Sam if they hadn't grabbed him with the 249th pick. 
Bears coach Marc Trestman said on Saturday that Sam would have been a defensive end in Chicago, not a linebacker, "When someone has that number of sacks, you have to pay attention to that," Trestman said of the Bears' interest in Sam, via the Chicago Sun-Times. 
As it is though, Sam is with the Rams, and he's happy about that. "The Rams know what the hell they're doing." 
And what the Rams did was draft Sam, which you can watch below. 
The Cowboys running back now looks like a tank

Former Atlanta sportswriter Larry Hartstein knows the Falcons and locked in a pick for 'Monday...

Let's examine Sashi Brown drafts during his time as Cleveland's GM to decide if John Dorsey...
This was definitely one of the weirdest things to happen in Week 15

This might be the one guy who actually understands the catch rule

Jackson is 1-29 since becoming the Browns coach in 2016