Michael Sam's dad claims he was 'terribly misquoted' by NY Times
In an interview with a local newspaper, Michael Sam Sr. claims that he was misquoted in a 'New York Times' article that was published following Michael Sam Jr.'s announcement that he's gay.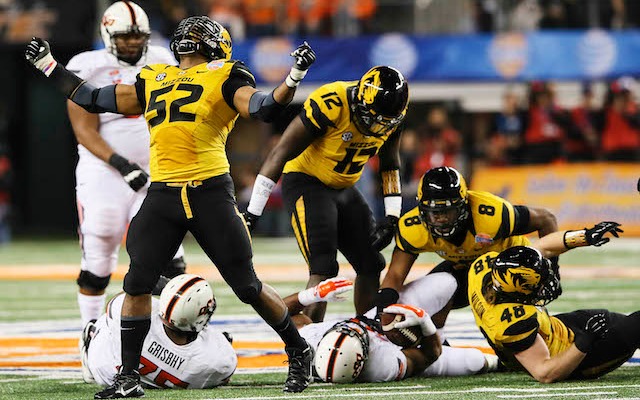 After former Missouri defensive end Michael Sam announced he was gay on Sunday, one of the more interesting reactions came from Sam's father, Michael Sam Sr. In an interview with the New York Times just after Michael Jr.'s announcement, the elder Sam said he didn't want his 'grandkids raised in that kind of environment.'
The Times also quoted Sam Sr. as saying he's an 'old school... man-and-a-woman type of guy.' 
Now the elder Sam is claiming he didn't say some of the stuff that the Times has quoted him as saying. In an interview with the Galveston County (Texas) Daily News on Wednesday, Sam Sr. says that he was 'terribly misquoted' and that the New York Times also took him out of context.
Specifically, Sam Sr. denies that he told the Times he's a 'man-and-a-woman type of guy.' The elder Sam also denies that he said he didn't want his 'grandkids raised in that kind of environment.'
"I did not say anything about my grandkids," Sam Sr. said on Wednesday. The Sam family is from Hitchcock, Texas, a small town just outside of Galveston.  
The New York Times piece also quotes Sam Sr. as saying that NFL Hall of Famer Deacon Jones is probably 'turning over in his grave' because of the younger Sam's announcement. The Times article made that quote come across as somewhat negative, even saying that Sam Sr. grumbled the quote. However, the elder Sam says that quote was meant to be positive. 
"I told them that Deacon Jones is going to roll over in his grave because here comes my son and that's he's going to be a star in the NFL," Sam Sr. said. 
In Wednesday's interview with the Daily News, the elder Sam came out in full support of his son. "My son did the right thing, and I am not against him at all. He has made a great statement in coming out, and that he should be able to play in the NFL. I love him unconditionally," Sam Sr. said. "Once he gets on the field and hits (someone) once, they won't think he's gay."
Despite the allegations made by Sam Sr., New York Times sports editor Jason Stallman sent an email to the Daily News saying the Times stands by its story. "We generally are not inclined to discuss the details of our reporting, but I can assure you that we quoted Mr. Sam accurately and fairly," Stallman wrote. "I've gone over it with our reporters, and everything was rock solid, beyond any doubt."
Donald Trump would like to see NFL owners cut any players who kneel for the national anthe...

One of the biggest penalties in Thursday's game was a controversial flag that went against...

If Ezekiel Elliott gets suspended, it likely won't come until Week 5 at the earliest
The NFL is apparently concerned that the Chargers might not be viable in Los Angeles

Everything you need to know for Week 3 of the 2017 NFL season is here

You can find every official injury designation for each NFL team shortly after its Friday report...