Michael Vick named Eagles starter for opener against Redskins
Chip Kelly officially named Michael Vick the Eagles starter for the opener against the Redskins on Tuesday.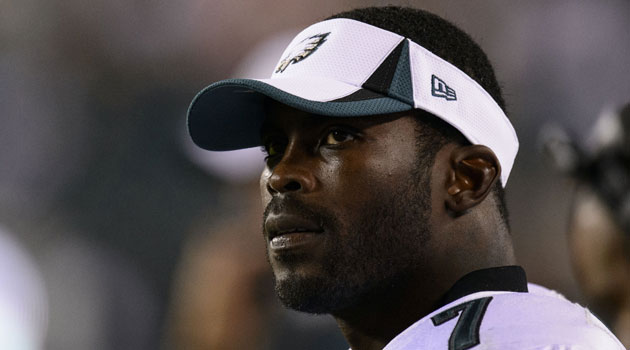 Despite Chip Kelly's protestations to the contrary, it has been obvious that Michael Vick would beat out Nick Foles for the Eagles starting job. And now it's official, with Kelly naming Vick the starter on Tuesday for Philadelphia's Week 1 matchup against the Redskins.
Vick, who re-negotiated his deal with the Eagles before the season, dominated this preseason, completing a whopping 86.7 percent of his passes (13 of 15) while throwing one touchdown and one interception (which was a garbage throw before halftime against the Panthers).
"He's our starter for the season," Kelly said of Vick.
Obviously those plans can change -- Vick's been hurt or benched before. But clearly Kelly feels good about rolling into 2013 with Vick under center. And Vick clearly feels good about Kelly as his coach; the quarterback recently said he "fell in love" with the game of football again thanks to Kelly taking over.
And it's not like Foles won't be waiting if Vick slips up too bad. Kelly added that the backup "made it very difficult" to pick Vick as the guy.
"I think Mike is ahead right now. I think Nick made it very difficult," Kelly said.
Foles did -- he looked quite good at times running Kelly's fast-paced offense during the preseason. But ultimately this was a no-brainer decision for the new coach.
The upside that Vick offers the Eagles in Kelly's system -- especially when surrounded by talent like LeSean McCoy and DeSean Jackson -- is just too hard to ignore.
The second-year quarterback already looks fantastic for the Cowboys

The linebacker starts in the middle for Dallas, Mariota shines and more from Saturday's preseason...

If you're an NFL team and you want Phillip Dorsett, just give the Colts a call
Carolina's offense featured McCaffrey in a multitude of ways on Saturday

This is why you should only eat dinner alone

The Kaepernick situation is slowly turning into a black eye for the NFL