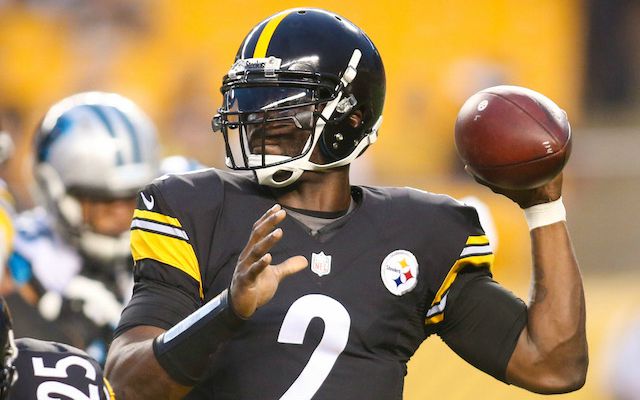 The next NFL team that Michael Vick plays for will be his last.
The free-agent quarterback revealed on Wednesday that he plans to retire after the 2016 season. "I'm willing to wait the entire year out, but it's definitely going to be it for me [after that]," Vick told ESPN's Josina Anderson.
The 35-year-old quarterback spent the 2015 season with the Steelers after signing a one-year deal with the team just weeks before the regular season started. If Vick's going to play in 2016, he'll likely have to go through the same process of watching and waiting. Vick would likely get a call if a backup quarterback goes down in the preseason.
Vick likely won't sign with anyone anytime soon because there's a lot of competition in free agency. Teams would likely call Brandon Weeden, T.J. Yates, Charlie Whitehurst, Jimmy Clausen or Tarvaris Jackson before they call Vick.
If Vick has to wait a few months to sign with a team, that's something he's willing to do.
"I still want to play one more year," Vick said. "I'm going to keep my options open and not rush into it."
Vick actually started three games for the Steelers last season after Ben Roethlisberger went down with a knee injury. Although Vick struggled, the Steelers did go 2-1 during his three starts.
The No. 1 overall pick in the 2001 NFL Draft, Vick has also spent time with the Jets, Eagles and Falcons.