Michael Vick says he 'fell in love with the game again'
Eagles quarterback Mike Vick said he "fell in love with the game again" thanks to new coach Chip Kelly.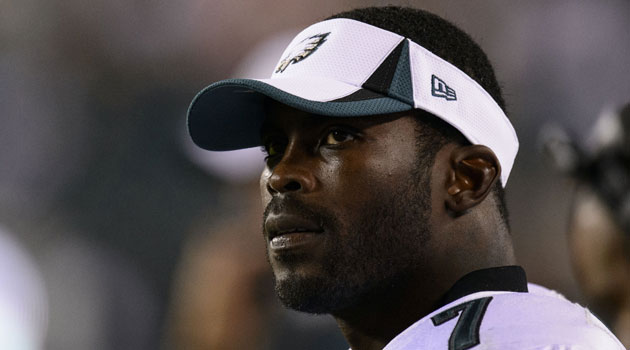 For Michael Vick, football is a game so nice he's willing to love it twice. Or maybe it's three times now?
Whatever. The point is that Vick, who's been oh-so-up and oh-so-down during his NFL career, looked fantastic on Thursday night against the Panthers -- though not fantastic enough for Chip Kelly to name him the Eagles starting quarterback -- and said afterward that he "fell in love with the game again."
"I'm having fun playing football and I fell in love with the game again and I am thankful for that," Vick said. "You've got to play this game with intense passion and purpose and I thank Coach Kelly for what he has done for me and that's just giving me that confidence that I felt like I was losing at some point in my career."
It's hard to blame Vick for losing touch with football. Well, kind of. It's not like the Eagles losing for a few seasons in a row and Vick being unable to stay healthy and Vick fumbling the ball really compare to, you know, going to jail for a few years.
After his career was resurructed by Andy Reid in Philadelphia, it looked like Vick might finally harness his talents into becoming the game-changing quarterback everyone wanted him to become. He flashed plenty of times but could never be consistent in his game and ultimately struggled through the end of Reid's regime.
"Like I said, the last two years were tough. And you try to find yourself in the game of football. It's a tough game, it's gritty," Vick said. "It can be great and glorified when everything is going well, but when it's not you've still got to live in it and deal with it.
"And I think this year, within this offense, taught me how to prepare myself again and how to gain that confidence. How to approach the game because it all starts with your belief and your faith. I know I can get it done, I know I'm one of the best in this league."
Under Kelly Vick looks outstanding ... again. We'll see if it carries over into the regular season (assuming, sigh, that Vick wins the job; hint, he will). And we'll see what happens if defenses adjust to the Eagles fast-pace style of play or if the Eagles suffer a lot of injuries that force Vick into bad situations.
But for now, it's fun seeing Vick enjoying a game that he's quite good at when everything is going well.
Plus Christian McCaffrey looks awesome, Mariota delivers and more from Saturday's preseason...

The second-year quarterback already looks fantastic for the Cowboys

If you're an NFL team and you want Phillip Dorsett, just give the Colts a call
Carolina's offense featured McCaffrey in a multitude of ways on Saturday

This is why you should only eat dinner alone

The Kaepernick situation is slowly turning into a black eye for the NFL