Michael Vick thinks you should start Nick Foles in Fantasy Football
Michael Vick think Nick Foles is a smart play in fantasy football this week because Foles is 'going to do numbers.'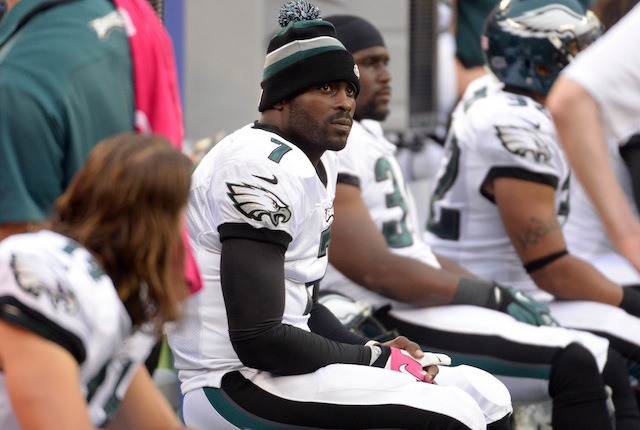 If you're still not sure who to start at quarterback in your fantasy football league this week, you might want to think about starting Nick Foles. CBSSports.com fantasy writer Jamey Eisenberg thinks Foles is a smart start, but he's not the only one who thinks that, Michael Vick thinks it too. 
On Saturday, Vick was asked on Twitter if he thought Foles would be a good fantasy start this week and here's what he replied, complete with a birdGanG hashtag: 
Yes he's going to do numbers. #birdGanG RT @JosephSkurkis: @MikeVick Do you think Foles is a good fantasy start this week?

— Mike Vick (@MikeVick) October 19, 2013
It's solid fantasy advice, although Eagles coach Chip Kelly might find it a little frustrating. Kelly hasn't yet said that Foles is the team's starter this week and Vick hasn't even been officially ruled out: he was listed as questionable on the Eagles final injury report.
Unfortunately for Kelly, Vick has seemingly ruled himself out by telling everyone all week that he won't be playing against the Cowboys on Sunday. Vick injured his hamstring in Week 5 against the Giants and hasn't played since. Earlier this week, Vick said the hamstring was worse than he thought it would be. 
Until he's 100 percent, Vick thinks Foles should be the Eagles starter, "I have to get back to 100 percent, and until then Nick is the quarterback of this football team, and that's where we stand," Vick said. 
Adjust your fantasy rosters accordingly.
Let's call it the Blair Walsh revenge game

Jeremy Lane also stood near Bennett along with pass rushers Cliff Avril and Frank Clark

Bennett also dedicated it to 'all of the other athletes using their platform to promote ch...
The Patriots quarterback shows commitment from Day One

Cardinals' running back says he's feeling more energized

The Vikings' receiver is wearing his heart on his foot