Midseason awards and predictions: Strahan's sack record will be broken
While the AFC North isn't performing how Pat Kirwan expected, it's looking like his second-half predictions, namely the sack record falling, will shape up.
August bold predictions
AP would not lead the NFL in rushing: Back in August I said Adrian Peterson would not lead the NFL in rushing this year which looks correct but I did pick Alfred Morris to be the leader. He sits 165 yards behind LeSean McCoy but Morris has played one less game so there's still a chance but it looks doubtful.
Dez Bryant would lead the NFL in receptions: After his sideline behavior last week it looked like he expected to lead the league and is frustrated he's tied for 14th. He's only 11 off the lead at this point so he could still make it. He is tied for 2nd in touchdown passes. After watching Calvin Johnson last week I should have stuck with the sure thing but that wouldn't have been a bold prediction.
Helmet penalties: Back in August I said the penalty for hitting with the crown of the helmet would not be called 80 times the whole season and that looks like a lock. It just isn't the factor people expected it to be but there will be fines given out when the game tapes are reviewed. It is not a big deal.
Last-to-first teams: I did say that no team would go from last to first in 2013 but the Kansas City Chiefs may have something to say about that call. I also said the Broncos first loss might come in Kansas City. Well, the Broncos already have their first loss but that Chiefs game could be the game that decides the division.
First-pick prophecy: Last August I said the Sept. 15 game between the Jaguars and Raiders would decide which team had the No. 1 pick in the 2014 draft. I underestimated the great job Dennis Allen would be doing with the Raiders but I did get the Jaguars right.
Kings of the North: Back in August I said 3 teams would come out of the AFC North to make the playoffs. I didn't see the Steeler demise coming and the Ravens better hurry up if there will even be two teams coming out of this division.
Rest-of-season predictions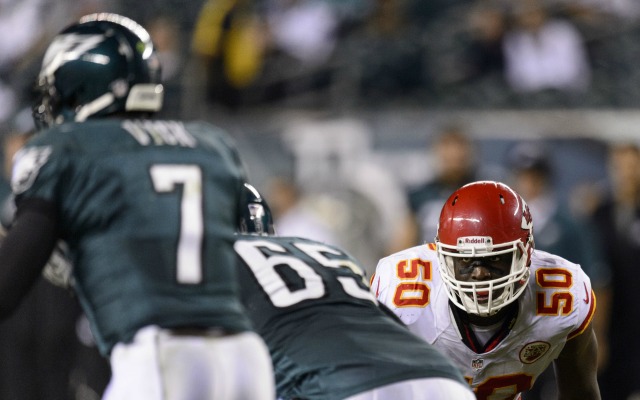 Sacks skyrocketing: Sacks are at an all-time high pace right now with 643 in the first 240 games. The 2013 season could see 1,375 sacks of quarterbacks, which would be nearly 200 more than the average of the last five seasons.
Rise of the backups: Those sacks are leading to volatility at the quarterback position and we have already seen 54 quarterbacks throw a pass in a game and 44 start a game. With 12 backup quarterbacks already getting the nod to start we could see close to 20 by the end of the season or close to 60 percent of the teams calling on a backup to start. Less than 20 percent of those backup signal callers will win the games they start.
The Seahawk influence: The Seahawks' man-to-man coverage schemes have led other teams to incorporate more man-to-man coverage schemes. What's interesting about the growth of the more physical man-to-man schemes is the fact pass interference and illegal contact calls are running behind last season' frequency of calls, which is in line with what coaches have been telling me that the refs are letting the defensive backs play a rougher brand of coverage.
The IR issue: Injured Reserve is a concern of mine at this point in the season and it appears to be a growing concern. As of today there are 210 players on IR and about five pending. On Nov. 1 last year there were 137.  Run the numbers out for the rest of the season and we could see 400 on IR. That is alarming.
Coaching carousel: It's not coach firing season yet in the NFL but it will be here soon. After the success Andy Reid is having with the Chiefs in one season, look for owners to shy away from college coaches considering Chip Kelly, Greg Schiano and Doug Marrone have a combined 6-17 record. That's fewer wins than Reid has alone. Lovie Smith should be a very hot name in the coming weeks after taking this year off following a 10-6 season as the Bears coach.
Run, Brady, run: The true pocket passers Tom Brady, Peyton Manning, Philip Rivers, Eli Manning, Ben Roethlisberger and Drew Brees are all facing man underneath/2 deep coverage schemes which dare those quarterbacks to run. Teams will not play that coverage against the mobile quarterbacks but the pocket guys will take off a few more times than usual looking for a first down with their feet.  Look for the classic drop-back passers to run more than usual especially in 3rd and less the 6 yard situations. All six men are ahead of schedule moving the chains with their feet which is unusual and hopefully all of them are learning to slide.
The fall of the sack record: Four pass rushers are already in double digit sacks -- Robert Mathis, Robert Quinn, Justin Houston and Mario Williams. With the increase in passing and the number of offensive tackles injured or on IR around the NFL, one of these men will break the sack record of 22 ½ set by Michael Strahan in 2001. It's too bad Aldon Smith and Von Miller have had their issues off the field, and Demarcus Ware is injured because it would be a seven-man race for the record.
My 12 teams to the playoffs prediction
AFC:
Broncos
Chiefs
Ravens
NFC:
Seahawks
First-half awards
MVP: Peyton Manning, QB, Denver -- His 29 touchdown passes are on pace for 58 for the season, which would be an NFL record. The Broncos average 43 points a game and 366 yard passing a game.
Offensive Player of the Year: Jamaal Charles, RB, Kansas City -- Charles already has 1,018 yards rushing and receiving with eight touchdowns.
Defensive Player of the Year: Robert Mathis, DE, Indianapolis -- Mathis leads the NFL with 11 ½ sacks and really doesn't have the benefit of a good pass rusher on the opposite side.
Offensive Rookie of the Year: EJ Manuel, QB, Buffalo -- Manuel is injured right now but he has started 5 games and is due back soon. He has already led the Bills to wins over Carolina and Baltimore. If he gets back for seven games he could win this award, otherwise it could be Eddie Lacy.
Defensive Rookie of the Year: Kiko Alonso, linebacker, Buffalo -- Alonzo doesn't leave the field for any down and distance situations and already has 81 tackles, 1 sack, 4 interceptions, 4 passes defended and 1 forced fumble.
Comeback Player of the Year: Sean Lee, linebacker, Dallas -- Missed 10 games last year with an injury. Returned this year and already has been in on 80 tackles, with four interceptions, six passes defended and a touchdown.
Coach of the Year: Andy Reid, Kansas City
Everything you need to know about the Packers-Panthers game on Sunday afternoon

The Lions will be wearing their Color Rush uniforms for the first time on Thursday

The Lions look to maintain playoff positioning while the Bears attempt to play spoiler
The Panthers have hired an outside law firm to conduct the investigation

Here's every official injury designation for each NFL team for Week 15

Bennett was one of the few players who escaped punishment after Sunday's melee in Jacksonv...