Mike Ditka on playing cold-weather Super Bowl: 'I mean, it's stupid'
Former Bears coach -- and noted tough guy -- Mike Ditka doesn't the players should have to deal with an outdoor Super Bowl.
• 1 min read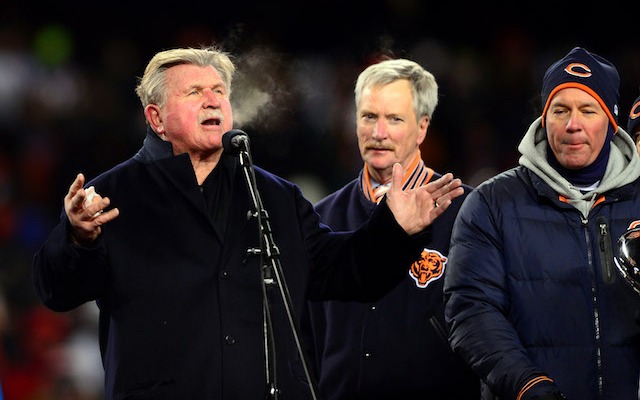 More SB coverage: XLVIII odds | Expert picks | Super Bowl weather | Latest news
Many members of the media landed in the New York City area on Sunday to begin preparations for Super Bowl week, and everybody was met by snow on the ground and an Arctic chill in the air. So maybe former Bears coach Mike Ditka has a point when he said the following.
"The weather's going to be a problem," Ditka told the Detroit Free Press. "They made a big mistake. The game shouldn't be there. I mean, it's stupid."
As of Sunday, the weather prediction for Super Bowl Sunday was a 60 percent chance of precipitation with temperatures dipping down to 31 degrees around the time the game is scheduled to begin. Also, something about ice pellets.
On Monday morning, things perhaps began to look a little more hopeful. With regards to precipitation. Not to temperature.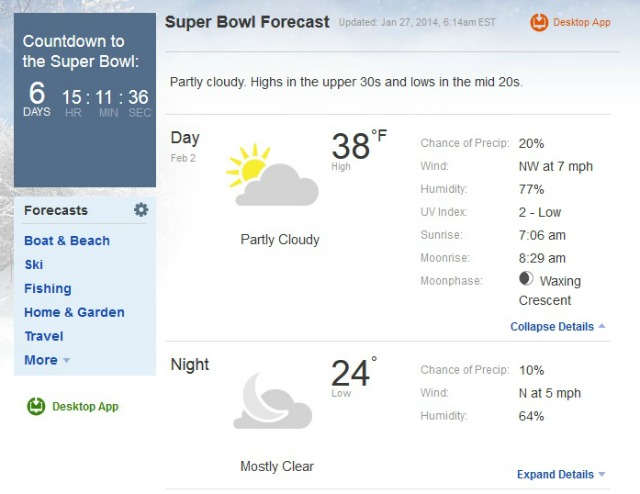 Still, it's not cool, Dikta said.
"First of all, it's not fair to the players," Ditka said. "It's not going to be fair to the fans. It's not going to be that enjoyable.
"I mean, I understand it's the Super Bowl and it's a privilege to play in the Super Bowl. It'd be nice to be playing in Miami or San Diego or New Orleans or somewhere the weather is conducive to guys being able to show their talents."
I understand all that, but I talk to so many fans who think football should be played in the outdoor elements. Sure, these people won't have to sit in those actual elements while fighting off frostbite, but if there is snow and sleet and wind and cold, that could make for a cool-looking visual for those watching on TV (how, obviously, the vast majority of people are going to watch the game).
As for the tens of thousands of fans (and, ahem, media) who will brave those elements, well, they'll probably have a chance to tell you whether an outdoor Super Bowl is a good idea or a bad one. And you know what, so will the commissioner.
Follow Josh Katzowitz on Google+
Trump's remarks from Friday night are the top storyline in the NFL on Sunday

There was only one Steelers player on the field for the national anthem in Chicago

On Sunday, players across the entire league are responding to Donald Trump's comments
The Jaguars are doing their best to embarrass the Ravens

The Steelers say they won't be affected by 'divisive times'

Both Rodgers and Brady posted messages on social media calling for 'unity' and 'brotherhood'...