Mike Ditka's retired jersey will be the last for the Bears
With Mike Ditka joining 13 other former Bears to have their jersey number retired, the team says it won't retire any more.
• 2 min read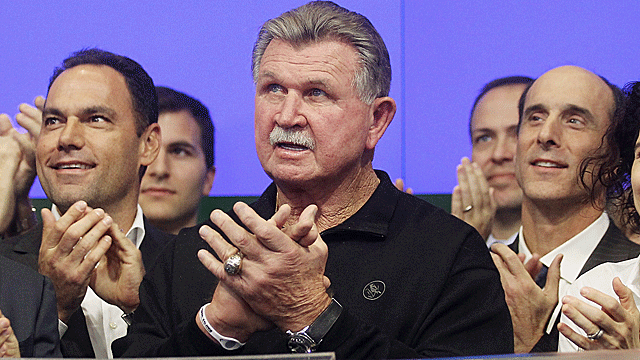 When the Bears last week announced they will retire the No. 89 jersey of Mike Ditka, it was a long time coming for the iconic coach and former tight end who dominated his position when he was in Chicago from 1961-66.
And for those great Bears players whose numbers haven't yet been retired, the wait for them to be honored in this fashion will be even longer. That's because the team has said it will not retire any other numbers.
"If there is going to be a last one, there is no more appropriate one than 89," team chairman George McCaskey said in a statement.




As the Chicago Sun-Times points out, though, that means former Bears stars like defensive lineman Dan Hampton (inducted into the Pro Football Hall of Fame in 2002), linebacker Mike Singletary (inducted into the HOF in 1998), defensive end Richard Dent (inducted in 2011) and linebacker Brian Urlacher (probable future Hall of Famer) won't be honored in the same way.
"It's simple math," Hampton told the newspaper. "This is a franchise with so many great players. If everybody's number got retired, it would diminish the honor in a way. I understand. The trap of it all is that if you played for the Bears, you're one of many. If you played in Tampa, what is there, a handful of guys?"
The "simple math" problem is relevant. Ditka is the 14th former Bears player to have his number retired. And unless the team is going to begin issuing triple-digit numbers, Chicago -- which has retired more than any other team in the league -- risks running out of numbers if it keeps plastering old-time jerseys on the wall and taking them out of stock.
But Ditka certainly is worthy to be honored in this way, and now he joins players like Walter Payton, Dick Butkus and Gale Sayers to have his number taken out of circulation.
"When you think of all the great Bears players who have had their jerseys retired, I can't say that there's any greater honor," Ditka said.
Said McCaskey: "Mike Ditka embodies the spirit of everything the Bears are about. He's an icon. The last time we won the championship, Mike Ditka was our coach, and the last time we won before that, Mike Ditka was a player. The organization knew it was the right thing to do. He revolutionized the tight end position as a player and grabbed an entire franchise by the throat as a head coach and willed it to victory in the Super Bowl."


Everything you need to know about the Packers-Panthers game on Sunday afternoon

The Lions will be wearing their Color Rush uniforms for the first time on Thursday

The Lions look to maintain playoff positioning while the Bears attempt to play spoiler
The Panthers have hired an outside law firm to conduct the investigation

Here's every official injury designation for each NFL team for Week 15

Bennett was one of the few players who escaped punishment after Sunday's melee in Jacksonv...