Mike Kafka has chance to win Jaguars starting QB job
With the Jaguars signing quarterback Mike Kafka, that makes three, along with Blaine Gabbert and Chad Henne, who could win the starting job.
• 2 min read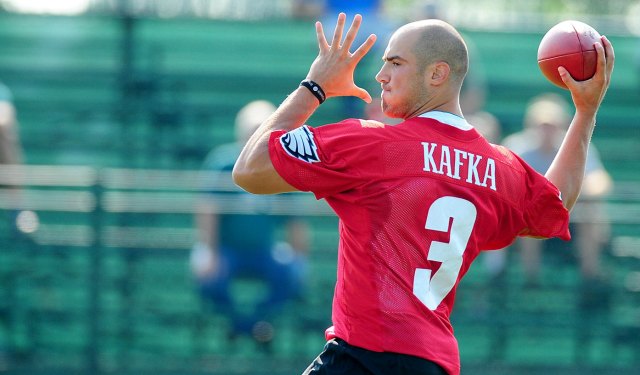 Let's make one thing clear: The Jaguars quarterback situation is not ideal.
Blaine Gabbert has been, let's put this nicely, unimpressive since the team took him in the first round of the 2011 NFL Draft, and Chad Henne -- who was a disappointment in Miami -- could have a good chance to permanently unseat Gabbert as the starter.
But now that the Jaguars have signed quarterback Mike Kafka, who was released by the Patriots earlier this week at the same time New England signed Tim Tebow, there actually could be a three-way battle to see who will run Jacksonville's offense in 2013.
Though former Jaguars coach Mike Mularkey recently told Sirius XM radio that he would start Henne over Gabbert, Jacksonville general manager Dave Caldwell thinks Kafka might have a chance at the job, writes ESPN.com.
"In 2011, when Caldwell was part of the Falcons front office, he saw the best of Kafka's limited NFL work," ESPN writes. "Michael Vick got hurt, Kafka took over for him and the Eagles and hit on 7-of-9 passes for 72 yards in a game Philadelphia lost 35-31. Caldwell said Kafka's got 'just as good an opportunity' to win the job as Gabbert, Chad Henne or undrafted rookie Matt Scott."
Which doesn't mean that Jacksonville's quarterback room suddenly is full of talent. After all, Kafka now has been discarded by two teams, including the Eagles -- who took Kafka in the fourth round of the 2010 draft and played him for a total of four games, all in 2011 (his stat line reads: 11 of 16 for 107 yards, zero touchdowns and two interceptions).
In all, the Jaguars have five quarterbacks on the roster -- the fifth is undrafted rookie Jordan Rodgers -- and the team says it's not inconceivable that all have a chance to be on the roster for training camp. I don't know what that says about how the team feels about Gabbert, but it probably isn't good.
For Kafka, though, he's just happy to have a new job.
"I'm really thankful to be here, and I'm happy to be here," Kafka told reporters. "Now, it's time to get to work. Nothing really surprises me in this league. That [Patriots transaction] was their decision and now I'm happy to be here. I'm looking forward to getting to work."
Especially if he has a real chance to win the starting job.
The youngest coach in NFL history isn't coming off as someone out of his depth -- just the...

Henry is ready to take on a more substantial role in the Titans' run-heavy offense

In the past week, Marshawn Lynch and Michael Bennett have both sat during the national ant...
As expected, the internet had jokes about the Chick-fil-A at Mercedes-Benz being closed on...

Harrison is the franchise's all-time leading sacker, but J.J. Watt's brother will get the starting...

More than 17 percent of fans say they would never consider dating a Pats fan