Mike McCarthy: Packers RB Eddie Lacy diagnosed with concussion
Eddie Lacy has been diagnosed with the second concussion of his two-year career.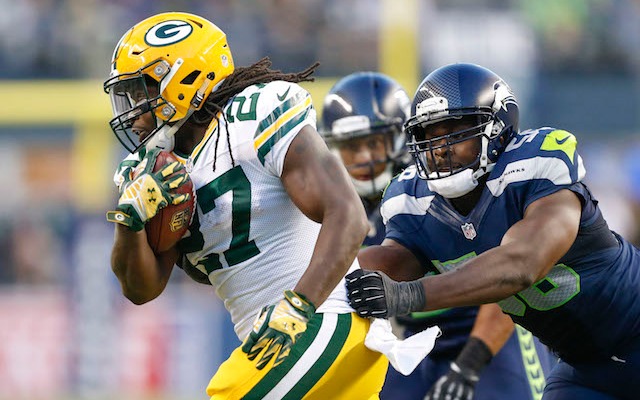 Packers running back Eddie Lacy was taken out of the game in the fourth quarter against the Seahawks on Thursday because he suffered a concussion, coach Mike McCarthy confirmed in his postgame press conference. 
The NFL's reigning offensive rookie of the year appeared to suffer the injury after running over Seahawks safety Kam Chancellor on the Packers second offensive play of the fourth quarter.
Lacy stayed in the game for one more play after the collision, but then headed to the sideline and never came back. 
It's the second straight season that Lacy has suffered a concussion. The 23-year-old missed one game last season after suffering a concussion in Week 2 against the Redskins. Lacy took two weeks to heal from that injury. The second-year running back missed a game against the Bengals and then had another week to heal because the Packers had a Week 4 bye. 
This time around, Lacy will have 10 days to heal if he's hoping to play in Green Bay's next game. The Packers host the Jets on Sept. 14 and Lacy would have to pass all concussion protocols and be cleared by an independent neurologist before he'd be allowed to play in that game. 
Lacy ran for 34 yards on 12 carries in the Packers 36-16 loss to the Seahawks. 
There is a lot of smoke about the Bills making a drastic move up the draft board

The Patriots defensive back says everyone knew Butler would be benched

The trade up for USC's star signal-caller makes it quarterbacks off the board in the first...
The quarterback free-agent market, QB draft class, Panthers sale, Jon Gruden's return and much...

Patriots QB's ring, given to one of his friends/family members, was auctioned off to an anonymous...

If the Redskins get petty, Cousins will try and get his vengeance through a grievance