Mike Munchak: Job security with Titans 'is not a concern right now'
Mired at a 5-8 record, Titans coach Mike Munchak says he isn't thinking about his job security.
• 2 min read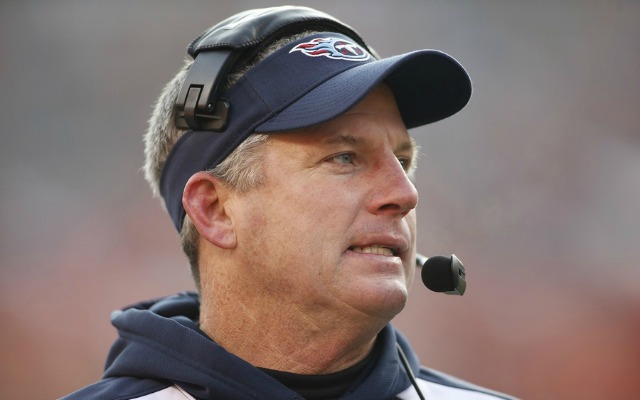 It was about this time last year when Titans coach Mike Munchak began feeling a bit warm in his seat. But just after last season ended, then-owner Bud Adams assured his coach that he would be back for the 2013 campaign.
"I like Mike, I really do. But liking him and getting the job done are two different things," Adams said before deciding to give Munchak another year.
A season later, the Titans are 5-8 after having lost four of their past five games and seven of their past nine, and Munchak's job security, in his third season in charge of the team, is unsteady.
Though he only has one year left on his contract, Munchak's record stands at 20-25. But he says he's not looking ahead to his future beyond this year.
"We have three games to go. We have a lot of football to play, so that is not a concern right now ," Munchak said, via the Tennessean. "Once we play our last game, we'll have an opportunity to speak on how we go forward as a football team like I did last year and the year before that. I've had the same discussion when the season ends and I'm assuming I'll have that same discussion when the season ends.
"I'll have a chance to talk to everybody then and say 'Here's what happened. Here's how we go forward. Here's the plan.' And then a decision is made and we'll move forward."
The Titans actually have been better than last year. Jake Locker, when he hasn't been injured, was having the best season of his career, and Tennessee won three of its first four to start the year. But without its starting quarterback and with running back Chris Johnson transforming himself into more of an ordinary player, Tennessee hasn't had the offensive pop to keep up with the Broncos, the Colts or (gasp!) the Jaguars in recent weeks.
Pretty soon, Munchak's fate will be in the hands of team president and CEO Tommy Smith. That's why, in part, Tennessee's final three games of the season will be so important.
"I think we have to be 8-8. I am not worried about my job for 8-8, but we need to be 8-8. We have worked too hard. At this point that's the best we can do," Munchak said. "So that's what our goal is, to win these three games. … It is not about to save this, to save that, it's about going forward for next year."
A next year that, even at 8-8, might not include Munchak.
Follow Josh Katzowitz on Google+
There is suddenly a wide open NFC playoff race and the MVP battle could get interesting to...

Pittsburgh is headed to its fourth consecutive postseason appearance

The NFC is going to be a blast to watch down the stretch
Here are the Week 14 grades for every team that played Sunday

Someone apparently threw a drink at Jefferson as he left the field and he was not happy about...

All of the best highlights from Week 14 are right here