Mike Pettine: Brian Hoyer, not Johnny Manziel, will start 1st preseason game
When the Browns take the field in Detroit on Aug. 9, look for Brian Hoyer to be under center with the first-team offense.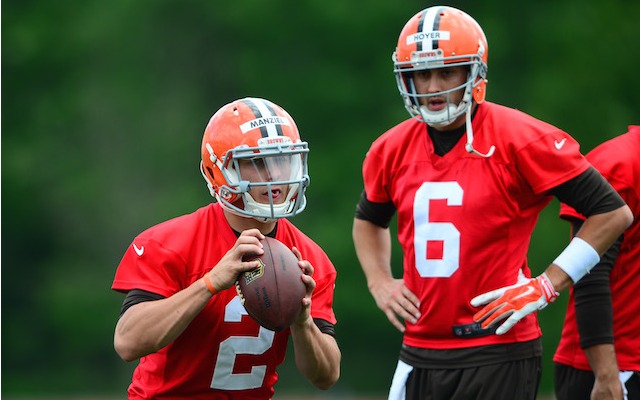 More NFL: Photos |   Videos & GIFs |  Stories | Training Camps | Johnny Manziel watch 
Johnny Manziel's preseason debut will likely come in Week 1 against the Lions, but it won't come as the Browns starting quarterback. Cleveland coach Mike Pettine said this week that Brian Hoyer will be the starter for the Browns in their Aug. 9 preseason opener at Detroit.
"Brian will start the first preseason game if nothing else changes," Pettine told ESPNCleveland.com. "There's plenty of time in there, daily updates staff-wise, to decide then how we want to [proceed]. There's a lot of different ways it can play out."
The fact that Manziel might not start in Week 1 of the preseason shouldn't come as a huge surprise. What is kind of surprising though is that Pettine wouldn't even commit to Johnny Football being the starter for Week 2 of the preseason. 
"I haven't made that decision," Pettine said. "That will have to be earned." 
Back in June, Pettine said that Hoyer was "securely ahead" of Manziel, but even if that's the case, you'd think Pettine would want to see what Manziel can do in a starting capacity. That would mean letting Hoyer and Johnny Football each start a preseason game and then letting the better quarterback start the all-important Week 3 game. 
Even if Manziel loses the quarterback competition, he could end up on the field during the regular season. Pettine said there's a package for Manziel, meaning we could see Hoyer and Johnny Football playing in the same regular season game. 
"We've already installed elements of it in the spring," Pettine said. "We ran some of the zone-read stuff in practice and Kyle [Shanahan] incorporated some of the mobile quarterback elements of what he did in Washington."
Shanahan was the Redskins offensive coordinator and incorporated zone-read after the team drafted Robert Griffin III. 
Although Manziel will likely have a zone-read package, that doesn't mean the Browns will use it if Hoyer's the starter. 
"I think there's positives and negatives to it," Pettine said. "You're taking your starter off the field. You have his rhythm and continuity to take into account, but at the same time defensively you're now forcing a team to basically come up with two game plans."
The bottom line here is that Pettine is choosing his words carefully and making sure that Manziel knows he's going to have to earn everything is he wants to get on the field in Cleveland this year. 
Hernandez was 27 when he committed suicide in April 2017

Mowins is set to become the first female play-by-play announcer in NFL on CBS hisory

The Rams have struggled against the 49ers but that was during the Jeff Fisher era
The Cowboys' running back owns his mistake, says it was 'just bad effort'

Casey, who died at 78 on Wednesday, was a top-10 pick in the NFL Draft and an eventual Pro...

Manning was unfazed when his coach called him out after the Giants' latest loss