Mike Pettine: Browns could actually draft two quarterbacks in 2014
It appears as though the options are wide open for the Browns to take a quarterback or two in this year's draft.
• 1 min read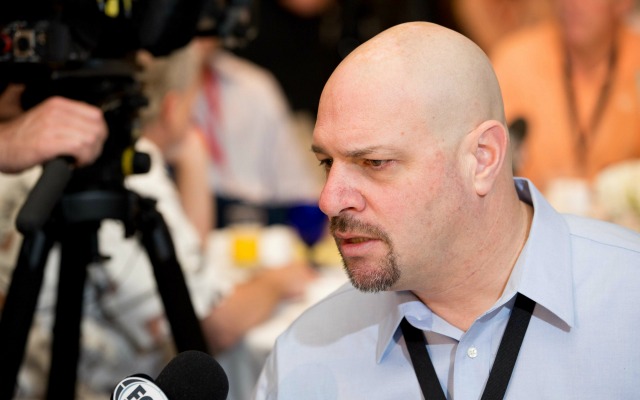 More NFL offseason: Mock Drafts | Prospect Rankings | Pro Days | Top free agents
With the Browns releasing former first-round draft pick Brandon Weeden and letting Jason Campbell walk into free agency this offseason, Cleveland currently has two quarterbacks on its roster. No. 1, Brian Hoyer, who started three games last season for the Browns and had plenty of success before departing with a torn ACL injury. And No. 2, Alex Tanney, who was once on the Cowboys practice squad before the Browns plucked him away in the middle of last season.
That's it.
Thus, it's not difficult to predict that the Browns will draft a quarterback this year -- in fact, three of the five CBSSports.com mock drafters think Cleveland will grab either Johnny Manziel or Teddy Bridgewater with the No. 4 overall pick.
But what about drafting TWO quarterbacks?
Browns coach Mike Pettine told reporters at the owners' meetings, via the Cleveland Plain Dealer, that the team actually could take a pair of signal-callers this year.
Actually, it's not that novel of an idea. The Redskins, after all, drafted Kirk Cousins in the third round of the 2012 draft after selecting Robert Griffin III with the No. 2 overall pick, and the Colts took Chandler Harnish in the seventh round that year after grabbing Andrew Luck with the No. 1 overall pick.
With the Browns picking so early in the draft, they'll likely have the opportunity to take a chance on a potential franchise quarterback. And Pettine had nice things to say about Blake Bortles ("If you draw me an NFL quarterback, that's probably who you'd draw"), Manziel ("a gifted playmaker"), Bridgewater ("NFL-ready, extremely accurate, cerebral, has a calming presence and quiet confidence") and Derek Carr ("the best natural thrower in the draft").
As for whether the Browns would draft a quarterback in the first round, Pettine skirted around the issue. Instead, he said that if a quarterback is the best player available, the team will take him. Otherwise, they could wait until later in the draft and still select a potential starter.
And what if, though it's difficult to see this happening, Jadeveon Clowney was available at No. 4?  
"He's a freakish athlete," Pettine said. "As a defensive coach, I don't think I'd be too sad to turn in the card on Clowney at No. 4."
The Giants got a scare in the second quarter against the Browns

Welcome to the NFL's version of a dress rehearsal

The Browns protested the anthem on national television
Beckham passed tests for a concussion but the Giants will do more tests on his ankle

The president has something in common with Vladimir Putin

The Seahawks are trying to beef up their offensive line with George Fant out