Mike Pettine: Browns will proceed as if Johnny Manziel is Week 2 starter
Johnny Manziel might get his first start of the 2015 season in Week 2.
Johnny Manziel's first start of the 2015 season could come against a fellow Heisman Trophy winner. 
Browns coach Mike Pettine said Monday that the team will proceed this week as if Manziel will be the starter for Cleveland's Week 2 game against Tennessee. However, that doesn't necessarily mean Manziel will start.
Pettine also said that Josh McCown could end up starting if he's cleared to play. McCown suffered a concussion late in the first quarter of the Browns' 31-10 loss to the Jets on Sunday. 
"He's in the concussion protocol," Pettine told Cleveland.com when asked about McCown's status. "He was here [Monday] morning."
McCown was injured on a play where he tried to turn into a half-man, half-helicopter, a play that Pettine doesn't fault him for. 
Josh McCown saw a lane. Dove towards the end zone...FUMBLE! #CLEvsNYJ http://t.co/LDWLrhm82t

— NFL (@NFL) September 13, 2015
"If he had scored and we won the game, we would've carried him off the field -- in a good way," Pettine said. 
As for Manziel, he got off to a hot start against the Jets, but overall, his performance was disappointing. 
After throwing a 54-yard touchdown pass on his first series of the game, Johnny Football fell apart, turning the ball over three times in the second half. 
Manziel's not sure if he'll start against the Titans, but he'll be ready either way. 
"Obviously the second half leaves a little bit of a bitter taste in your mouth, but you know we'll see what happens throughout this next week, see what Josh's status is," Manziel said. "For me obviously going into this week right now, as far as I know, just be ready to go, get in with those guys and get a chance to mesh with them a little bit because obviously I haven't been with the ones a lot since training camp or since this week or anything like that." 
If Manziel does start, Sunday's game will pit the 2012 Heisman Trophy winner against 2014 Heisman winner, Marcus Mariota. 
If McCown starts, that will give the Browns a chance to take Merrill Hoge's advice. On Monday, the ESPN analyst said Cleveland needs to "cut him" and do so "immediately."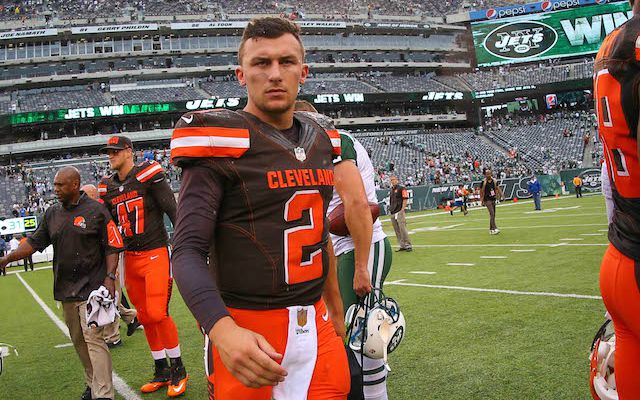 Snead will be the third wideout to join the Ravens this offseason as they look to revamp their...

Jacksonville just signed Blake Bortles to a three-year extension

So will Patriots tight end play football in 2018? 'Maybe'
Find out exactly what your team could do in the 2018 NFL Draft

Brissett put up impressive numbers under trying circumstances last season

Will Brinson and R.J. White break down the winners and losers from a seven-round NFL Mock...