Mike Pettine, Rex Ryan disagree over Pats use of Jets playbook
A Mike Pettine story about the Patriots possibly taking a Jets playbook did not make Jets coach Rex Ryan happy.
• 1 min read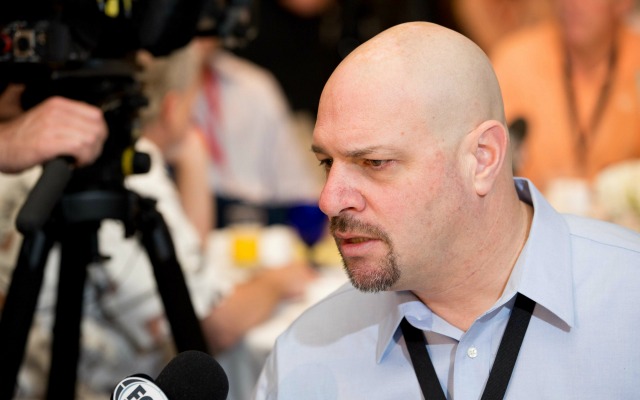 While talking with theMMQB.com's Greg Bedard for this story on how he's going to try to turn around the Browns franchise, coach Mike Pettine described how thin his team's initial playbook would be.
"I don't put a lot of graduate-level information in it," Pettine says. "We know in places like New England, it's only a matter of time that they somehow mysteriously end up with our playbook."
And then Pettine told this tale:
Pettine told a story of how, at Wes Welker's wedding, Tom Brady bragged a little bit to Jets outside linebackers coach Mike Smith, who was Welker's college roommate, that the Patriots may or may not have had possession of a couple Jets defensive playbooks.

"It didn't shock me because Rex would give them out like candy anyway," Pettine says. "He gave one out to [Alabama coach Nick] Saban and I was like, 'Don't you know Saban and Bill [Belichick] are pretty good friends? I have a feeling it's going to end up in New England.'"
That led to a Twitter discussion between Bedard and Bleacher Report's Mike Freeman about how the Patriots nearly always do a good job of procuring the playbooks of other teams.Then, former player Matt Bowen weighed in with his thoughts.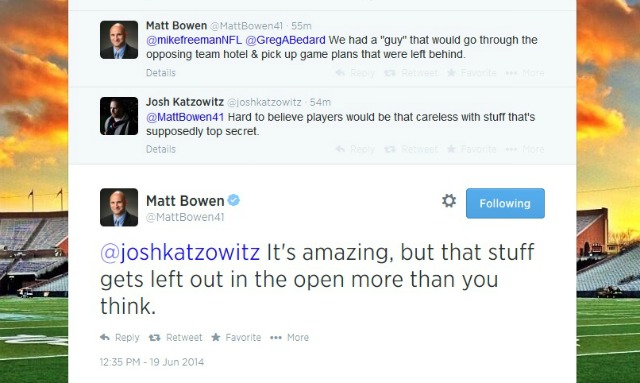 But when reporters brought up the subject with Ryan on Thursday, he was clearly not pleased.
Rex Ryan says its "disrespectful to the Patriots to say they had a playbook" #nyj #jets pic.twitter.com/OZHdeqKk9r

— Jeane Coakley (@JeaneCoakley) June 19, 2014
Rex confirms he gave playbook to Saban when he visited Jets' facility for 4 or 5 days. Says its " ridiculous" to think it impacted games.

— Rich Cimini (@RichCimini) June 19, 2014
Whoa RT @KMart_LI: Rex called it "ridiculous" multiple times...adds "everyone needs to talk to Mike Pettine cause he's got all the answers."

— Jeff Howe (@jeffphowe) June 19, 2014
Rex on his relationship with Pettine: "It's in a bad spot right now.... He needs to be quiet." Laughing. #nyj

— Rich Cimini (@RichCimini) June 19, 2014
As for Saban's reaction ...
Alabama coach Nick Saban says he never gave copy of Jets playbook to Patriots and never would, per Alabama spokesman.

— Kevin Armstrong (@KevinGArmstrong) June 19, 2014
The NFC is going to be a blast to watch down the stretch, but don't sleep on the Patriots'...

The Dolphins just created a serious shock in the AFC and MVP races by beating the Patriots

With their 2017 season basically over, it's time for Texans fans to turn their attention to...
Now 10 different players have intercepted Tom Brady multiple times in one game

Brady lofted it between two defenders and Lewis snatched it with one hand