Mike Zimmer calls Johnny Manziel pro day a 'sideshow'
At least one person wasn't all that impressed with Johnny Manziel's pro day workout. Or at least the atmosphere surrounding it.
• 2 min read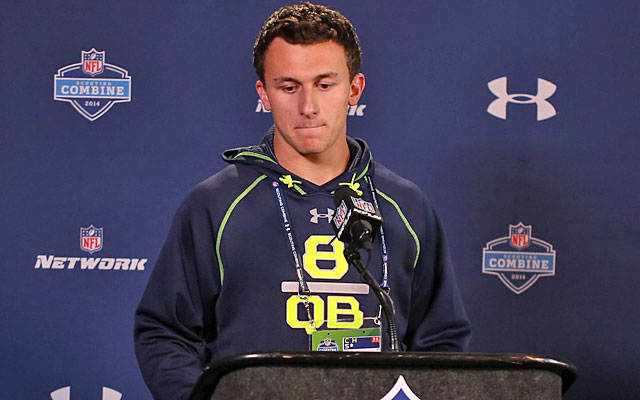 More NFL offseason: Mock Drafts | Prospect Rankings | Pro Days | Top free agents
For the most part, the pro day workout by Johnny Manziel at Texas A&M on Thursday was an impressive display of accuracy, arm strength and a nice touch on his passes. A former U.S. president and first lady -- along with their dog -- were there, and though there was plenty of Twitter snark during and after the workout, Manziel's performance could easily be labeled a success.
Vikings coach Mike Zimmer, though, has a slightly different opinion. He said Manziel's performance was "choreographed" and that the surrounding atmosphere was too circus-like for his taste.
 "The huddles and the different things and the music. The sideshow stuff," Zimmer said, via the Houston Chronicle. "It was a sideshow."
Perhaps Manziel's most unusual decision was to participate in his pro day while wearing shoulder pads and a helmet. Some speculated that Manziel did so in order to appear physically bigger to the scouts and NFL officials in attendance, and Manziel said he did it simply because he plays the game in pads and a helmet.
But it sounds like Zimmer wasn't impressed.
"It was a different workout," Zimmer said. "It's the first time I've ever seen it ... "This one was a little different in how it was choreographed. People like that or they don't like that, I don't know."
What Zimmer's comments mean ... well, who knows. He's on record saying the team wants to add quarterbacks to the Vikings roster, and it seems likely Minnesota will look to the draft in order to do so and to find a way to replace Christian Ponder and Matt Cassel as the team's potential starter.
For the record, three of the five CBSSports.com mock drafters predict Minnesota will take a quarterback with the No. 8 overall pick (two votes for Teddy Bridgewater and one for Derek Carr).
But by the time it's the Vikings' turn to draft, Manziel very well could be off the board anyway. Unless all 32 teams are on the same wavelength as CBSSports.com's Pete Prisco -- who doesn't have Manziel as a first-round pick in his mock draft.
Still, not everybody was turned off by Manziel on Thursday.
"The atmosphere and everything that was involved and then to come out and perform like he did, that was great," Jaguars coach Gus Bradley said. "I think that's no different than how he's performed all year, right? Perform under pressure. Felt like more of a pressurized environment with a lot of eyes watching him and he did a great job."
The former Buccaneers kicker did not have things start well for him in Chicago

Bears special teams showed up in a big way against Arizona

Beast Mode got loose with Oakland and looked pretty impressive in the early going
Beast Mode was one of several players to sit during the Raiders-Rams game

The cleaning staff in Houston missed a couple of things while cleaning up after Super Bowl...

Marvin Jones had some serious fun in the end zone after scoring against the Jets